Michael Symon's Mom's Lasagna
Assemble This Delicious Lasagna for Family Sunday Dinner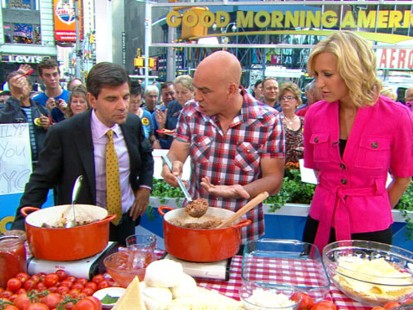 The "Iron Chef" cooks up mom's lasagna and zucchini crudo.
From the kitchen of Michael Symon
There's nothing like a warm tray of lasagna right out of the oven. Make this delicious comfort food on the next chilly night.
Ingredients
1/2 cup olive oil
1 onion, diced
4 garlic cloves, minced
pinch kosher salt and freshly ground black pepper
1 pound pork neck bones
1 pound ground veal
1 pound ground beef
1 pound spicy Italian sausage, loose or removed from casings
1/2 cup dry white wine
1 (28-ounce) can San Marzano tomatoes, with their juice
2 bay leaves
1 pound dried lasagna noodles
2 pounds whole milk ricotta cheese
1/4 cup chopped fresh flat-leaf parsley
1/4 cup chopped fresh basil leaves
1/4 cup chopped fresh oregano leaves
2 large eggs
1/2 cup grated Parmesan, plus more for final topping
1 pound fresh mozzarella cheese, grated
Cooking Directions
In a large Dutch oven or heavy pot, heat the olive oil over medium heat. Add the onion, garlic, and a three-finger pinch of salt and sweat them until they're translucent, about 2 minutes. Add the neck bones and let them brown, about 5 minutes. Add the ground veal, beef and sausage, and season with another healthy pinch of salt. Cook until the meat is browned, about 10 minutes. Stir in the white wine, tomatoes and their juice, and the bay leaves. Scrape the bottom of the pot with a wooden spoon, making sure to get all of the browned bits into the sauce. Season the sauce with salt, to taste, and simmer for 2 hours over medium heat. Remove the bay leaves and neck bones and let cool. Skim any fat that rises to the surface.
Bring a large pot of water to a boil over medium heat. Add enough salt so that it tastes seasoned and allow the water to return to a boil. Add the noodles and cook until al dente. Drain well and set aside.
In a medium bowl mix together the ricotta, parsley, basil, oregano, eggs, and Parmesan with a pinch of salt.
Preheat the oven to 350 degrees F.
Ladle about 1 cup of sauce on the bottom of a lasagna pan. Arrange a layer of noodles followed by a layer of sauce and then some of the ricotta mixture. Top with a layer of mozzarella, smoothing it with a spatula to the edges. Repeat the process until the pan is full. Finish with a final layer of noodles, sauce, the mozzarella, and Parmesan.
Cover the lasagna with aluminum foil and bake for 1 hour. Uncover and bake for 30 minutes. Remove the pan from the oven and let it rest, 5 to 10 minutes before serving.
This recipe was styled by chef Karen Pickus for Good Morning America.
Recipe courtesy Michael Symon.
Recipe Summary
Main Ingredients: mozzarella, parmesan, veal, beef, sausage, garlic, olive oil, lasagna noodles, ricotta
Course: Casserole, Dinner
More Info: Kid Friendly