Michael Symon's Pork Tenderloin With Greens and Apples
Best Weeknight Dinner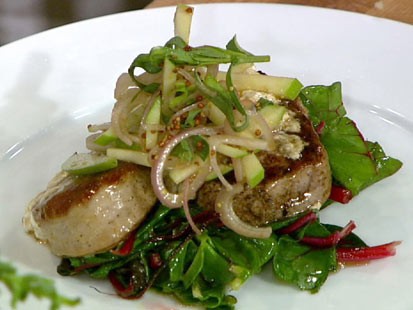 From the kitchen of Michael Symon
Ingredients
For the Greens:
2 bunches swiss chard
4 tablespoon olive oil (divided)
For the Pork:
1 pork tenderloin (cut into medallions)
4 tablespoon robiola
For the Salad:
2 tablespoon sherry vinegar
1 shallot
3 tablespoon grain mustard
4 tablespoon olive oil
salt
1 granny smith apple (julienned)
1 tablespoon fresh tarragon
Cooking Directions
For the Pork: Season pork with salt on both sides.
Heat 2 tablespoons of olive oil in a cast iron skillet. Add pork and pan roast for about 2 minutes per side. Once the pork has been flipped top each piece with robiola.
Cover pan with pot top to help melt the cheese for another 1-2 minutes. Once cheese has melted remove pork from pan.
For the Salad: Thinly slice the shallot and put in mixing bowl. Add a pinch of salt, sherry vinegar, olive oil, mustard, torn tarragon, and julienned apple. Toss to combine and season with more salt if necessary.
For the Greens: Place swiss chard on griddle with 2 tablespoons olive oil and a sprinkle of salt. Cook for 1-2 minutes and flip. Cook until green have wilted. Add another small pinch of salt and remove from heat.
To Serve: Plate cooked swiss chard and top with a piece of pork. Top the pork with some of the apple tarragon salad and a drizzle of the vinaigrette from the bowl.
Recipe courtesy The Chew.
Recipe Summary
Main Ingredients: swiss chard, olive oil, mustard, shallot, granny smith, tarragon
Course: Dinner
More Info: Kid Friendly