Michael Symon's Rib Eye and Tomato Salad
Summertime on a Plate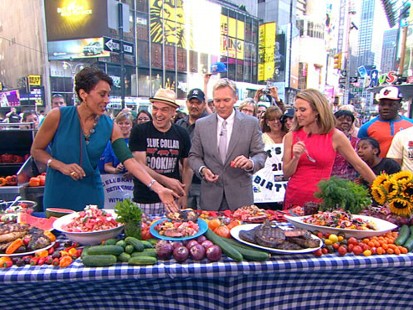 "The Chew" chef whips up some of his favorite summer recipes.
From the kitchen of Michael Symon
Ingredients
1 bone in cowboy rib eye steak
2 Tbsp evoo
2 Tsp kosher salt and freshly ground pepper
For the tomato salad:
1 clove garlic, minced
Kosher salt
Freshly ground pepper
1/4 cup evoo
1/2 red onions, shaved paper thin and soaked in ice water for 10 min
1 red bell pepper, cored, seeded and cut into 1 inch chunks
1/3 medium cucumber, thinly sliced
1 cup pitted kalamata olives
1/4 cup coarsly chopped fresh dill
1/4 cup coarsly chopped fresh mint
1 lb yellow toybox or heirloom tomatoes
1/4 cup red wine vinegar
Cooking Directions
Preheat a cast iron pan to medium high
Season the rib eye w salt and pepper and a drizzle of olive oil and cook on both sides (abt 10 min a side) or until desired doneness. Let steak rest after cooking for 15 - 20 min
Add dill, mint and tomatoes and toss gently to combine. Season w salt and pepper to taste. Spoon onto large platter and serve immediately
Recipe courtesy Michael Symon.
This recipe was styled by chef Karen Pickus for Good Morning America.
Recipe Summary
Main Ingredients: mint, steak, salt
Course: Dinner
More Info: Kid Friendly