Michael Symon's Ricotta Fritters
Try This Fried Treat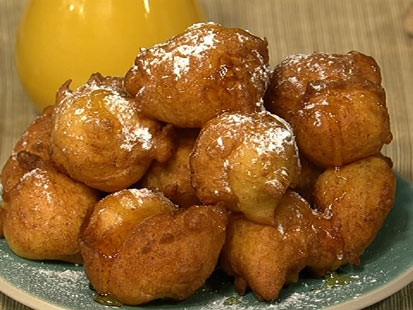 From the kitchen of Michael Symon
Ingredients
2 Quart Vegetable Oil
3/4 Cup Self-Rising Flour
1 Cup Goats Milk Ricotta
2 Eggs
1 1/2 Tbsp Granulated Sugar
2 Oranges, Zest and Juice
1/4 Cup Honey
1 Pinch Salt
Confectioner's Sugar, to garnish
Cooking Directions
Preheat Oil to 365 degrees in a large dutch oven.
In a large bowl, whisk together ricotta, eggs, granulated sugar, orange zest, and salt. Gently whisk in flour just until incorporated.
In a small sauce pan add honey and juice from oranges. Gently stir to combine until the sauce is heated through.
Using two spoons, gently drop heaping tablespoons of batter into oil. Fry in batches to avoid over-crowding the oil. Cook for 3-4 mins or until deep golden brown. Transfer to a paper towel lined plate. Sprinkle with confectioner's sugar and drizzle with honey orange sauce. Serve warm.
Recipe courtesy The Chew.
Recipe Summary
Main Ingredients: oil, self-rising flour, ricotta, salt, honey, confectioner's sugar
Course: Dessert, Snack
More Info: Kid Friendly