Michael Symon's Spicy Sausage Sliders
Easy Tailgate Food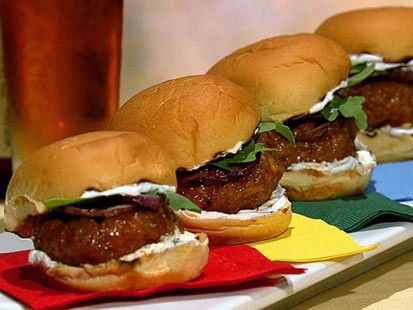 From the kitchen of Michael Symon
Ingredients
1 1/2 lb spicy sausage, removed from casing
3/4 cup greek yogurt
2 tbsp mint, chopped
2 red onions, sliced into 1/4 inch rounds
handful of arugula leaves
8 potato rolls
1 tbsp extra virgin olive oil, plus more for grilling
salt and pepper to taste
Cooking Directions
Preheat a grill over high heat. Form the sausage into 3 oz. patties. Place on the grill and cook for 2 minutes on each side. Grill the onions alongside the sausage. Toast the bread on the grill.
While the patties are cooking, mix together the yogurt mint and olive oil and season with salt and pepper.
Build the sliders with sausage patties, a smear of yogurt, arugula and grilled onions.
Recipe courtesy The Chew.
Recipe Summary
Main Ingredients: arugala, olive oil, sausage, yogurt, mint
Course: Dinner