Michael Symon's Spicy Sriracha Chicken Wings
Spicy Wings With a Kick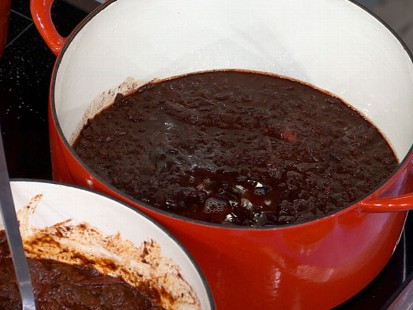 "The Chew" chef shows "GMA" anchors how to win big with Super Bowl dishes.
From the kitchen of Michael Symon
|
Ingredients
5 pounds chicken wings, split
1/4 Cup coriander seeds, crushed
1 Teaspoon cumin seeds, crushed
1 Teaspoon ground cinnamon
2 Tablespoons kosher salt
1/4 Cup EVOO
3/4 Cup Sriracha sauce
12 Tablespoons (1 1/2 sticks) unsalted butter, melted
1/2 Cup chopped fresh cilantro
Grated zest and juice of 3 limes
Vegetable oil for deep frying
Cooking Directions
In a very large bowl, toss to combine the wings, coriander, cumin, cinnamon, salt and olive oil. Cover and refrigerate for at 4 hours or overnight
Preheat the oven to 375 F. Arrange the wings on 3 large rimmed baking sheets and roast for 30 minutes, or until firm but not fully cooked through. (If you prefer not to deep-fry the wings as this recipe states, continue baking for an additional hour, or until the wings are crisp and golden brown)
Meanwhile, in a mixing bowl, stir to combine Sriraca, melted butter, cilantro and lime zest and juice. In a deep fryer or very large pot heat 8 inches of vegetable oil to 375 F.
In batches fry the wings for 5 min or until crisp and golden brown. When done, remove the wings from the oil, shaking off as much oil as possible. As each batch is cooked, toss the wings in the Sriracha butter sauce. Remove and transfer to a platter
Serve hot with plenty of napkins.
Courtesy of Michael Symon.
This recipe was styled by chef Karen Pickus for Good Morning America.
Other Recipes That You Might Like