Michael Symon's Spicy Stuffed Peppers
Spice Up Your Sunday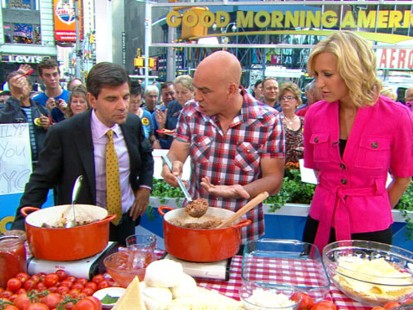 The "Iron Chef" cooks up mom's lasagna and zucchini crudo.
From the kitchen of Michael Symon
|
These stuffed peppers will spice up your Sunday football menu. Try them this weekend!
Ingredients
8 Hungarian hot peppers
1 ½ pounds Pork Sausage or Italian Sausage
2 cups Jarred tomato sauce
8 fresh basil leaves
Cooking Directions
Preheat the oven to 375 degrees F. Light coals in a charcoal grill for a medium-hot fire. Butter an 8 by 11 inch baking dish.
Cut the tops off of the peppers and spoon out any seeds. Divide the sausage into 8 equal portions and spoon it into the peppers to fill them.
Pour the sauce into the prepared baking dish.
Grill the peppers to char them on the outside, about 2 minutes per side. Remove them from the grill and lay the peppers on top of the sauce. Bake for 10 minutes or until sausage reaches an internal temperature of 150 degrees F. Divide among plates, spoon some tomato sauce on top and garnish each with a basil leaf.
This recipe was styled by chef Karen Pickus for Good Morning America.
Recipe courtesy of Michael Symon.
Other Recipes That You Might Like