Michael Symon's Steak and Scrambled Eggs
A Blend of Breakfast and Lunch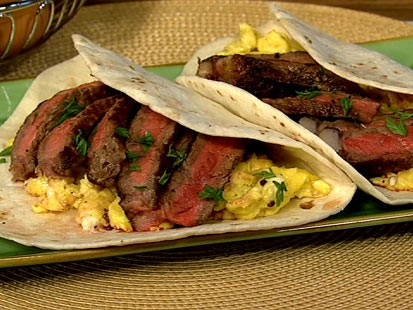 From the kitchen of Michael Symon
Ingredients
1 pound skirt steak
6 eggs
3 tablespoon butter
hot sauce
1 bunch cilantro, chopped
12 flour tortillas
Cooking Directions
Preheat a grillpan to medium-high.
Drizzle the steak with olive oil and then season generously with salt and pepper. Grill on either side for 2 to 3 minutes for medium. Set aside to rest.
In a medium bowl, use a whisk or two overlapping forks to whip the eggs and cream together until combined.
In a large nonstick skillet over low heat, heat 1 tablespoon butter until melted, and then add the egg mixture. Swirl a silicone spatula around the pan to move the eggs off of the surface of the pan, forming soft curds of eggs. Add 2 Tbl of butter and season with a pinch of salt. Just before they finish, remove from pan to a plate to finish cooking on their own.
Warm the flour tortillas.
Slice the steak against the grain into thin slices. Onto each tortilla, add some steak and eggs. Add a few dashes of hot sauce and a large pinch of chopped cilantro to serve.
Recipe courtesy The Chew.
Recipe Summary
Main Ingredients: steak, eggs, butter, cilantro
Course: Breakfast, Dinner
More Info: Kid Friendly