Tasting Table's Michelada (Spicy Beer Cocktail)
Fiesta Food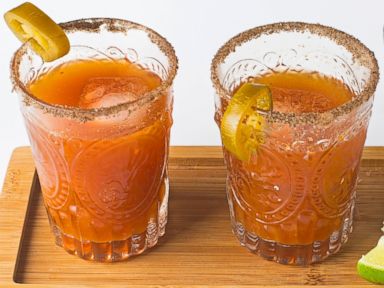 From the kitchen of Tasting Table
|
Go beyond margaritas this Cinco de Mayo with TastingTable.com's recipe for Micheladas (Spicy Beer Cocktails) below.
Ingredients
Smoked sea salt, as needed
1 tablespoon pickled jalapeno juice
1/4 cup store-bought spicy salsa, pureed until smooth
1/4 teaspoon salt
Juice from 1 lime
Ice cubes
1 12-ounce Mexican beer
1 pickled jalapeno, for garnish
Cooking Directions
Spread the smoked salt on a small plate. Dampen the rim of a chilled 12-ounce glass with water and press the rim into the smoked salt to coat the edge.
Add the pickled jalapeno juice, salsa, salt, lime juice and ice to the glass. Top with the beer and stir. Garnish with the pickled jalapeno and serve the remainder of the beer alongside.
Recipe courtesy TastingTable.com.
Other Recipes That You Might Like