The Milk Truck's Good Morning All Day Sandwich
Smoked Ham and Cheesy Gruyere Make a Delicious Pair on Rye Bread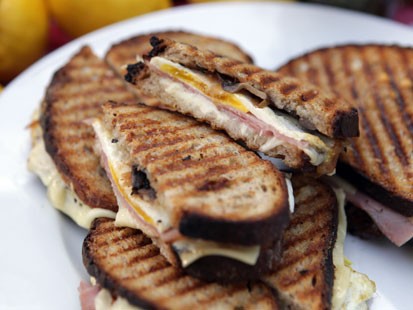 From the kitchen of The Milk Truck
|
Food Network's "The Great Food Truck Race," the hit culinary TV competition which pits food truckers against one another to see which team can make the best food and most money, is back for a third season. "GMA" pitted two of New York City's favorite food trucks in a live battle in Times Square to see who makes the best breakfast sandwich. The "Milk Truck, which specializes in grilled cheese sandwiches, whipped up this winning creation.
Ingredients
8 slices of Balthazar Rye Batard bread
8 oz gruyere, sliced or grated
4 1 oz slices of applewood smoked ham
4 fresh eggs
1 medium yellow onion, sliced thinly
4 oz mushrooms
1/2 lemon
2 oz clarified butter
olive oil
4 sprigs of thyme, leaves only
1 tablespoon sugar
1 teaspoon salt + more for seasoning
pepper
Cooking Directions
Heat a large skillet over medium heat.
Add 2 tablespoons of oil. Add onions and cook until softened, about 5 minutes.
Add 1 tablespoon sugar and 1 teaspoon salt, toss and continue to cook until onions are golden and slightly caramelized. Remove from pan and place on plate to cool.
Clean and slice the mushrooms.
Heat a large skillet over medium heat. When hot, add 2-3 tbsp. of olive oil. Add the mushrooms and thyme. Saute the mushrooms for a few minutes until browned. Salt to taste and remove from heat. Squeeze a bit of lemon juice over the mushrooms and set aside.
Wipe out the skillet, replace on heat and add 1-2 tbsp. of olive oil. Gently break four eggs into the pan, season with salt and pepper. Let the whites set a bit, then break the yolk. Flip the eggs and cook for another 30 seconds. You want the yolks to be just a little runny. Remove from pan and hold.
Heat a Panini maker according to instructions or a ridged, cast iron pan over medium heat.
Butter the outside of the 8 slices of bread.
On the unbuttered sides of 4 slices, add to each:
2 oz of Gruyere
One slice of ham
One egg
One tablespoon of caramelized onions
One tablespoon of mushrooms
Cover with the remaining bread slices so that the buttered sides are facing out. Place sandwiches in a Panini grill, two at a time, and grill until the bread is crisp and the cheese is melted throughout.
(Note: If using a cast iron pan, place another slightly smaller pan on top of the sandwiches to weight them down. Turn after a couple of minutes and repeat.)
Cut in half and serve hot.
Other Recipes That You Might Like