Clinton Kelly's Mixed Berry Trifle
Make Clinton Kelly's Signature Dessert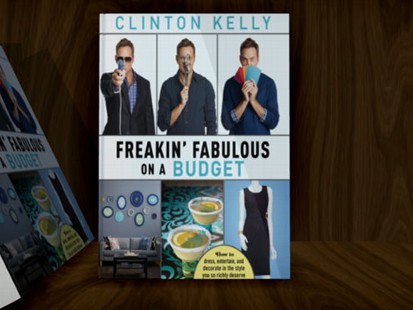 The co-host of ABC's "The Chew" and TLC's "What Not to Wear" discusses his new book.
From the kitchen of Clinton Kelly
|
Clinton Kelly, host of ABC's The Chew, knows a thing or two about entertaining. In his new book, "Freakin' Fabulous On a Budget," Kelly shares his no-fail tips for living the fab life with delicious, simple food.
Try his recipe for mixed berry trifle here.
Ingredients
2 pounds mixed fresh berries (raspberries, strawberries, blackberries)
½ cup sugar
1 package ladyfinger cookies
1 cup raspberry liqueur (such as Chambord); see Cheap Trick
One 10-ounce jar of lemon curd
Mint leaves and extra berries, for garnish
For the whipped cream:
2 cups chilled heavy cream
1 teaspoon vanilla extract
4 tablespoons confectioners' sugar
Cooking Directions
For the trifle
Hull the strawberries. Rinse and drain the berries and cut the strawberries in half. In a medium-size bowl, mix the fresh berries with sugar. Line a shallow dish with the ladyfingers and splash with raspberry liqueur.
For the whipped cream
In a chilled bowl, using a handheld or stand mixer on medium speed (and the whisk beater, if it has one), whip the heavy cream and vanilla until it begins to thicken, about 1 minute. Slowly add sugar and continue whipping until soft peaks form, another 2 to 3 minutes.
Layer the trifle bowl first with ladyfingers, then lemon curd, then berries, and repeat layering. Top with whipped cream. Garnish with mint and extra berries.
Cheap Trick: If you don't have strawberry liqueur, use any other strong liquor, like brandy or cognac.
Recipe reprinted with permission from "Freakin' Fabulous On A Budget" by Clinton Kelly/Gallery Books.
Other Recipes That You Might Like