M&M'S Bread Pudding with Milk Chocolate Caramel Sauce
Super Bowl Sweets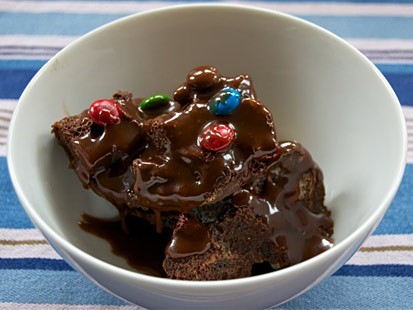 From the kitchen of John Besh
|
Try this M&M's bread pudding recipe from chef John Besh for this year's Super Bowl.
Ingredients
12 ounces (about 10 cups) stale bread, cubed
½ cup Peanut Butter M&M'S
¼ cup Milk Chocolate M&M'S
¼ cup Dark Chocolate M&M'S
2 cups whole milk
1 cup heavy cream
¼ cup granulated sugar
2 ½ tablespoons cocoa powder
5 whole eggs
½ cup light brown sugar
½ teaspoon kosher salt
½ teaspoon vanilla extract
8 ounces Dove Milk Chocolate, chopped
For the caramel sauce:
1 ½ cups sugar
1 cup heavy cream
8 tablespoons butter, unsalted
A pinch of salt
3 ounces Dove Milk Chocolate
1 teaspoon vanilla extract
¼ cup dark rum
Cooking Directions
Preheat oven to 325 degrees. Lightly grease a 9x13" baking dish. Toss together cubes of stale bread and M&M'S assortment then place into the prepared baking dish. Combine milk and cream in a heavy bottomed sauce pot over medium- high heat. Whisk together granulated sugar and cocoa and whisk into warming dairy.
In a separate bowl, whisk together eggs, light brown sugar, and the salt until smooth and incorporated. Once the dairy almost reaches a boil (watch for it to start to bubble around the edge of the pan), very carefully remove from the stove and add a little to the eggs, whisking constantly, until the two are fully combined.
Stir in chopped chocolate and vanilla extract.
Let the custard cool slightly before pouring over the bread and M&M'S mixture in the baking dish. Let the bread sit for about 30 minutes, or until the bread soaks up most of the liquid.
Bake approximately 45 minutes to an hour, or until just set. You should be able to insert a knife in the middle of the pudding and have it come out clean.
For the caramel sauce:
Place sugar and ½ cup water in a heavy bottomed sauce pot over high heat. In a separate pot, place cream, butter, and salt and heat slowly, just until the butter melts. When the sugar becomes a deep amber color, very carefully remove from the heat and stream in warm dairy mixture. Take great caution, as the sugar will bubble, steam, and hiss when you add the liquid. Whisk as constantly as you are able, until the entire dairy is added and the caramel is smooth.
Add Dove Milk Chocolate and whisk until it is smooth and incorporated. Stir in rum and vanilla extract. Allow to cool slightly before using. Caramel may be made days in advance and reheated as needed.
Recipe courtesy M&Ms.
Other Recipes That You Might Like