'The Mom 100 Cookbook''s Barbecued Chicken
An Easy Summer Dinner Solution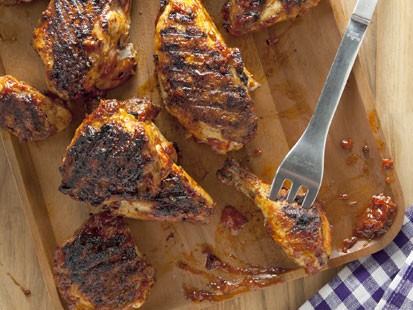 From the kitchen of Katie Workman
Why should you make your own barbecue sauce? Good question. There are a number of quite good barbecue sauces on the market, including some supermarket varieties (KC Masterpiece is a brand favored by many barbecue aficionados), and you can find lots more gourmet offerings in specialty food stores and other fancy outlets.
But if you're reading this, then you are at least partially sold on the idea of making your own sauce. First, you won't be adding any artificial sweeteners or miscellaneous ingredients with chemical names. Also, it's ridiculously easy. And finally, the sauce keeps in the fridge for weeks, so it's one of those great big batch things to make. And how much fun is it to have your very own house barbecue sauce? I'll tell you, fewer things make your friends and family look at you with glowing admiration than when you pass around a bowl of homemade barbecue sauce, about which you nonchalantly say, "Oh, you like it? I'm so glad."
This is an easy recipe to play around with. Use all honey, or all brown sugar, spice it up, spice it down, use chili sauce and less ketchup, add some cumin or lemon juice. This makes a hefty quantity but is also a great recipe to double batch: Split the batches between two containers and punch up the level of heat and spice in one so you have a version with kick for those who like sauce with kick. Label the two containers so you know which is which. Bring a jar to someone's house as a thank-you-for-having-us gift.
This recipe was excerpted from "The Mom 100 Cookbook."
Ingredients
For the barbecue sauce:
2 tablespoons vegetable or canola oil
11/2 cups chopped onion
2 tablespoons finely chopped garlic
4 cups ketchup, preferably Heinz (see Notes)
1/2 cup cider vinegar
1/4 cup firmly packed light or dark brown sugar
1/4 cup honey 1/4 cup tomato paste (see Cooking Tip #1, page 157)
3 tablespoons Worcestershire sauce
2 tablespoons Dijon mustard
1 tablespoon chili powder Kosher or coarse salt and freshly ground black pepper
5 pounds skin-on, bone-in chicken pieces, your choice of breasts, thighs, and drumsticks
Cooking Directions
Make the barbecue sauce: Heat the oil in a large saucepan over medium heat. Add the onion and garlic and cook, stirring occasionally, until slightly softened, about 3 minutes (don't let the onion and garlic get more than light golden in color). Add the ketchup, cider vinegar, brown sugar, honey, tomato paste, Worcestershire sauce, mustard, and chili powder. Season the sauce with salt and pepper to taste, stir well, and let simmer over medium low heat until the flavors meld, about 15 minutes.
If you like your sauce a bit chunky with the chopped onions, it's ready to go. If you like it nice and smooth, let it cool a bit and then puree it in a blender or food processor, or use an immersion blender.
Preheat a grill to medium or preheat the broiler with the rack placed about 8 inches away from the heat source.
Cook the chicken, naked at first, on the grill with the grill covered or under the broiler until it is, to your best estimation, two thirds of the way cooked through, about 10 minutes on each side. Watch carefully for smoke and flare-ups. Baste the chicken with some of the barbecue sauce, turn the chicken, and baste the second side. Grill the chicken another 5 minutes or so on each side, basting as necessary and checking to see that it's caramelizing nicely but not burning. Adjust the heat as necessary. When the outside looks the way you like it and the chicken is cooked through (see Notes), let it sit for a few minutes off the heat. Serve the chicken hot, warm, or at room temperature.
Notes: You can substitute 1 cup of Heinz chili sauce for 1 cup of the ketchup if you want a zestier sauce.
To check for doneness you can stick a fork in a piece of chicken and see if the juices run clear. Or, use an instant-read thermometer to determine whether the chicken has reached a temperature of 165°F; insert the thermometer in the thickest part of the meat but do not let it touch a bone. That temperature is from the FDA, but note that the chicken will continue to cook and the temperature will continue to rise after you've taken the chicken off the grill.
Serves 6; makes about 6 cups of barbecue sauce; you'll have sauce left over.
Recipe courtesy "The Mom 100 Cookbook"
Recipe Summary
Main Ingredients: canola oil, vinegar, brown sugar
Course: Dinner
More Info: Kid Friendly