Kayla Itsines' Moroccan Chicken Pita Recipe
Spice Up Your Lunch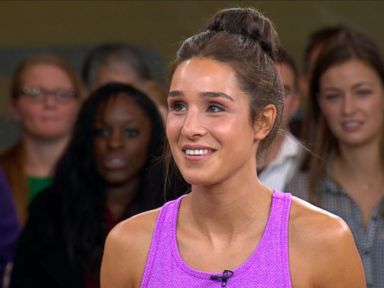 The Instagram fitness queen talks about her upcoming book "The Bikini Body" and shares her exercise and diet tips on "GMA."
From the kitchen of Kayla Itsines
Kayla Itsines became a fitness sensation with 6 million Instagram followers for her high-energy workout routines and videos. Now she's sharing her meal plans for health eating in a new book, "The Bikini Body 28-Day Healthy Eating & Lifestyle Guide." Try her Moroccan Chicken Pita recipe as seen on "Good Morning America."
Ingredients
1/4 teaspoon cayenne pepper
1/4 teaspoon ground cinnamon
1/2 teaspoon ground cumin
1/2 teaspoon ground coriander
1/2 teaspoon smoked paprika
1 teaspoon sea salt
1/2 garlic clove crushed
juice of 1/2 lemon
3 1/2 oz. boneless skinless chicken breast, cut into thin strips
oil spray
1 small handful baby spinach leaves
3/4 medium red bell pepper, seeds removed and thinly sliced
1/2 medium carrot, grated
1/2 medium tomato, chopped
1/2 whole wheat pita bread
Cooking Directions
Place the cayenne, cinnamon, cumin, coriander, paprika, salt, garlic, and lemon juice in a small bowl and stir until well combined.
Place the chicken in the bowl and rub with the spice mix. Ensure that all the chicken is coated.
Cover with plastic wrap and refrigerate for 30 minutes to marinate.
Heat a non-stick fry pan over medium heat and spray lightly with oil spray. Add the chicken strips and cook for 3–4 minutes on each side or until lightly browned and cooked through.
Remove from the heat and set aside.
To serve, layer the chicken, spinach, bell pepper, carrot, and tomato within the pita half.
This recipe is reprinted with permission from "The Bikini Body 28-Day Healthy Eating & Lifestyle Guide."
Food styling by Karen Pickus for "Good Morning America."
Recipe Summary
Main Ingredients: boneless skinless chicken breast, pita bread, tomato, red bell pepper, carrot
Course: Dinner, Main Course, Lunch