Buddy Valastro's Mozzarella en Carozza
Cake Boss Cooks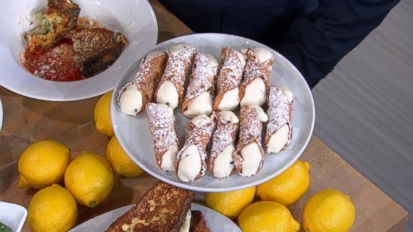 The "Cake Boss" shares some delicious recipes you might find at his Las Vegas restaurant.
From the kitchen of Buddy Valastro
|
Cake Boss Buddy Valastro may be best known for his lifelike celebration cakes, but the man also knows his way around a kitchen. See for yourself with his savory recipe for mozzarella en carozza below.
Ingredients
8 slices Filone bread
20 slices fresh mozzarella, sliced ¼-inch thick
4 tablespoons basil pesto (recipe below)
8 ounces carozza sauce (recipe below)
Salt & pepper to taste
2 cups heavy cream
2 cups all-purpose flour
2 cups egg wash (eggs beaten with water)
½ cup olive oil
4 fried basil leaves
2 tablespoons grated Grana Padano cheese
Cooking Directions
For carozza assembly: Lay 4 slices of mozzarella on top of 1 slice of filone bread, season and drizzle with 1 tablespoon pesto, and cover with another slice of filone. Dip sandwich in cream, then flour, then egg wash. Reserve for cooking.
To cook: In a sauté pan over medium heat, brown the carozzas, top and bottom, and finish in a hot oven until the cheese is hot and melted. Cut the carozzas into 4 pieces and place the sauce in the bottom of a dish. Top with the shingled carozza and drizzle with the pesto. Garnish with grated Grana Padano cheese and fried basil.
Carozza Sauce
Yield: 2 cups
4 tablespoons extra-virgin olive oil
1 garlic clove, minced
½ teaspoon chili flakes
5 basil leaves
4 cups crushed tomatoes
Salt, to taste
Sweat the garlic and chili flake in the oil, but don't brown. Add basil and slightly fry (about 20 seconds). Add tomatoes and simmer for 45 minutes. Taste and season with salt.
Pesto
Yield: 2 cups
½ cup pine nuts, toasted
1 garlic clove, minced
1 ½ cups canola oil
2 cups basil leave
1 teaspoon salt
3 turns freshly ground black pepper
½ cup Grana Padano cheese
Lemon zest from ½ lemon
Using a blender, combine the garlic, pine nuts and oil. Blend until pureed. Add basil, salt and pepper and blend to smooth consistency. Using a microplane, grate the zest of ½ lemon into the blender. Add the Grana Padano cheese, and pulse the blender until combined. Taste and adjust seasoning if necessary.
Note: If the pesto starts to come apart, blend in a few pieces of ice to recombine.
Recipes courtesy Buddy Valastro.
This recipe was styled by chef Karen Pickus for Good Morning America.
Other Recipes That You Might Like