'Impatient Foodie' Elettra Wiedemann's muffin tin eggplant parmigiana recipe
Add this meal to your weekday summer table.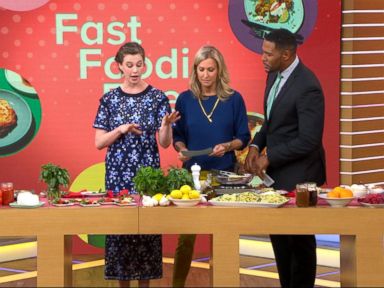 Elettra Wiedemann prepares three weekday meal fixes for the summer that cut down time for a fast and easy summer feast.
From the kitchen of Elettra Wiedemann
Elettra Wiedemann is a former fashion model whose blog and new cookbook, both titled "Impatient Foodie," feature shortcuts and recipes for busy people who want delicious meals. Try Wiedemann's recipe for muffin tin eggplant parmigiana that cuts down on preparation and cooking time by using a muffin pan.
Ingredients
3 small eggplants, unpeeled, thinly sliced in rounds
2 tablespoons extra virgin olive oil, plus more for greasing the muffin tins
Kosher salt
1 1/2 cups whole-milk ricotta cheese
1/4 cup chopped fresh basil
1/4 teaspoon freshly ground pepper
1/2 cup high-quality marinara sauce
1/2 pound mozzarella cheese, quartered and sliced (you need 24 slices)
Cooking Directions
Preheat the oven to 375 degrees. Evenly coat a 15 by 10-inch baking sheet with the two tablespoons of olive oil.
Cut the eggplant into 16 slices per eggplant for 4 slices of eggplant per muffin cup. Place the eggplant slices in one layer on the oiled baking sheet and flip to coat both sides. Season all the eggplant slices with an even sprinkle of salt.
Bake until the eggplant is soft and malleable, about 15 minutes.
Meanwhile, grease 12 cups of a muffin tin with olive oil.
Remove the eggplant from the oven and reduce the oven temperature to 350 degrees.
In a medium bowl, stir together the ricotta, basil, pepper, and half teaspoon salt.
Assemble the ingredients in the following order in the muffin cups. Sauce, two slices of eggplant, ricotta mixture, one slice mozzarella. Repeat the layering.
Bake until the mozzarella is browned and the sauce is bubbling, about 30 minutes. Allow to cool slightly before removing from the muffin tin.
Recipe courtesy Elettra Wiedemann.
Recipe Summary
Main Ingredients: eggplant, mozzarella cheese, tomato
Course: Main Course