Nate Appleman's Eggs with Prosciutto, Toast and Spinach
Try this Gourmet Breakfast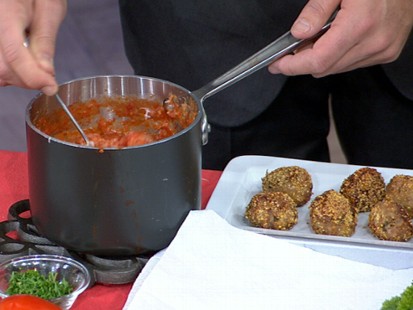 Nate Appleman, Alex Guarnaschelli help "GMA" anchors make meatballs and poach eggs.
From the kitchen of Nate Appleman
Try Nate Appleman's recipe for eggs with prosciutto, toast and spinach. This gourmet breakfast will make any early morning better.
Ingredients
4 eggs
4 slices of prosciutto
2 slices rye toast
small chunk of parm
large handful of spinach-sautéed and seasoned with salt
1 clove garlic
salt
extra virgin olive oil
Cooking Directions
Toast bread and rub with garlic .
Whisk eggs together. Heat pot of water with salt to simmer, and create vortex with a spoon unitl the water is really spinning. Slowly add the eggs in an even stream. Let cook for 20-25 seconds and carefully drain with fine mesh spider and drain on paper towel.
Place the spinach on top of the toast, then the prosciutto, then eggs, shave the cheese on top with a vegetable peeler and top with extra virgin olive oil.
Recipe courtesy Nate Appleman.
This recipe was styled by chef Karen Pickus for Good Morning America.
Recipe Summary
Main Ingredients: spinach, garlic, prosciutto, eggs
Course: Breakfast
More Info: Kid Friendly