The Neely's New Orleans BBQ Shrimp
Ring in the New Year With These Amazing Shrimp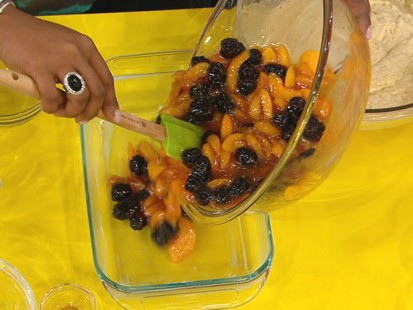 Pat and Gina Neely share their delicious family recipes.
From the kitchen of Pat and Gina Neely
On New Year's Eve 1996, we decided we wanted a warmer place to celebrate, so we jumped on a train to New Orleans, took a paddleboat down the Mississippi, and ate dinner while watching the fi reworks. The next day, there was the Sugar Bowl game and the Court of Two Sisters on Royal Street, in the French Quarter, where we went for mimosas and brunch. This routine became a tradition for a few years— but now it doesn't beat toasting in the year with our girls, so we brought the fl avors home. This recipe holds a particularly funny memory for us. One year we had a bowl of some of these saucy, spicy shrimp at a restaurant on the pier, just before jumping on the paddleboat. Pat couldn't keep the spoon away from his mouth, and he ended up
spilling a tremendous amount of that dark roux down the front of his white sweater. So there he was, sipping champagne and watching the fi reworks with a huge stain! He didn't mind a bit. MAKES 6 APPETIZER SERVINGS
Ingredients
2 pounds large shrimp, peeled and deveined
2 tablespoons Cajun seasoning
2 tablespoons canola oil
6 cloves garlic, smashed and peeled
One 12- ounce light- bodied beer
Juice of 1 lemon
One 8- ounce bottle clam juice
1/4 cup hot sauce, preferably Tabasco
1/4 cup Worcestershire sauce
2 tablespoons apple- cider vinegar
2 dried bay leaves
1 teaspoon whole black
peppercorns
1/2 cup (1 stick) cold butter, cut into cubes
1 crusty French baguette
Cooking Directions
Toss the shrimp with the Cajun seasoning in a medium bowl. Set aside. Heat the canola oil in a large saucepan over medium- high heat. Once it's hot, toss in the garlic, and sauté until golden, about 3 or 4
minutes. Add the shrimp to the pan, and cook until they turn bright pink, about 1 minute more. Remove the shrimp from the pan with a slotted spoon, and set aside on a plate. Pour in the beer, lemon juice, clam juice, hot sauce, Worcestershire sauce, apple- cider vinegar, bay leaves, and peppercorns; bring to a simmer, and cook for 15 minutes, until the liquid is slightly thickened.

Whisk the cubes of butter into the sauce, and once it's melted, add the shrimp to fi nish cooking, about 2 minutes more. Serve the shrimp and sauce in bowls with loads of crusty bread for dipping.

Recipe Summary
Main Ingredients: beer, bay leaves, butter, shrimp, peppercorns
Course: Appetizer/Starter
More Info: Kid Friendly