The Pollan Family's Nirvana Bars
Family Food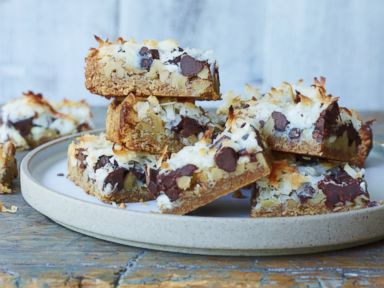 From the kitchen of The Pollan Family
The Pollan family has a lot of food experience -- mom Corky worked in food at both "Gourmet" and "New York" magazines -- and her three daughters carried that tradition into their adult lives, making it a point to cook and share meals with their own families. Try one of their family recipes from their new cookbook "The Pollan Family Table" for Nirvana Bars below.
Ingredients
6 tablespoons (3/4 stick) unsalted butter, melted
9 full graham cracker sheets, crushed into coarse crumbs
1/4 teaspoon kosher salt
1 cup chopped raw walnuts or pecans
1/2 cup semisweet chocolate chips
1/2 cup white chocolate chips
1/2 cup bittersweet or dark chocolate chips
1 cup sweetened shredded or flaked coconut
1/2 of a 14-ounce can sweetened condensed milk
Cooking Directions
Set a rack in the middle of the oven and preheat the oven to 350 degrees F. Line the bottom of a 9-inch square baking pan with parchment paper.
In a large mixing bowl, combine the butter, graham cracker crumbs, and salt; stir to mix well. Press the crumbs into the bottom of the baking pan. Layer on the chopped nuts, then the semisweet chocolate chips, white chocolate chips, and bittersweet chocolate chips. Sprinkle the coconut evenly on top. Lastly, drizzle on the condensed milk, covering everything with a thin layer.
Bake until golden brown, about 25 minutes. Let cool completely in the pan, then cut into 1 1/2-inch bars. Store in an airtight container.
Excerpted from THE POLLAN FAMILY TABLE by Corky, Lori, Dana, and Tracy Pollan. Copyright 2014 by Old Harvest Way, LLC. Excerpted with permission by Scribner, a Division of Simon & Schuster, Inc.
Recipe Summary
Main Ingredients: unsalted butter, graham crackers, chocolate chips, shredded coconut, sweetened condensed milk
Course: Dessert