Emilie Bousquet's Nirvana Burger
Battle of the Burgers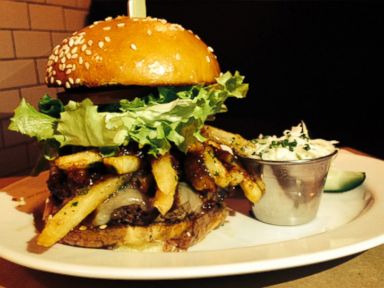 From the kitchen of Emilie Bousquet
Two restaurants in New York City and one in Las Vegas are getting in on the game day action with battling burgers, one themed for the Broncos and the other for the Seahawks. Check out the Seahawks-inspired burger here.
Ingredients
24 ounces burger meat
Barbecue Sauce
Frozen french fries
Garlic mix (recipe below)
Beecher's Flagship Cheese
Lettuce
Tomato
Onion
Cooking Directions
Season burger meat with salt and pepper and divide into four patties. Cook to temperature.
Fry frozen french fries. Once fried, toss fries in a bowl with 2 tablespoons garlic mix using a slotted spoon (so as to use mostly garlic and less oil).
Top burger with cheese, barbecue sauce and garlic french fries. Serve between a toasted sliced bun with lettuce tomato and onion.
Garlic Mix
6 tablespoons of minced garlic
2 tablespoons chopped parsley
2 tablespoons butter
1/2 cup blended oil
Heat oil in pan on low heat, then add butter. Add garlic and cook about one minute. Add parsley and remove from heat immediately. Reserve for fries.
Recipe courtesy of GO Burger Bar & Grill.
Recipe Summary
Main Ingredients: ground beef, barbecue sauce, frozen french fries, beecher's flagship cheese
Course: Dinner