MetLife Stadium's Nonna Fusco's Meatballs
Game Day Grub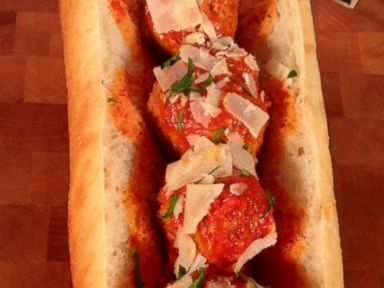 From the kitchen of MetLife Stadium
|
New Jersey's pulling out all the stops to host Super Bowl XLVII, from the field to festivities to the food at MetLife Stadium. Vendors created all-new gourmet menu items for the big day, like these meatballs. Can't make it to the game, like most of us? Don't worry—we've got the recipe here.
Ingredients
2 pounds ground beef, veal, and pork
2 whole eggs
1 cup seasoned bread crumbs
½ cup grated Locatelli brand or other Pecorino Romano cheese
2 cloves fresh chopped garlic
4 leaves fresh chopped basil
1 tablespoon fresh chopped parsley
4 ounces marinara sauce
1 cup dry white wine
½ teaspoon dry basil
½ teaspoon black pepper
½ teaspoon kosher salt
Cooking Directions
Mix all ingredients together well. Let sit about 1 hour. Form meatballs with ice cream scoop. Dip hands in wine to finish rolling meatballs. Place on greased (olive oil) pan. Bake 365 degrees for about 25 minutes. Remove and let cool. Add marinara sauce. Simmer for about 2 hours.
Recipe courtesy Chef Eric Borgia.
Other Recipes That You Might Like