Sallie Reese's Norwegian Christmas Cookies
Try This Recipe From a 'GMA' Viewer!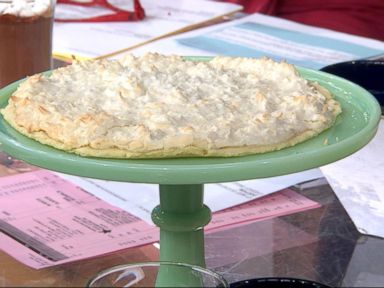 Sallie Reese's recipe for the round butter cookies, topped with meringue and coconut, comes from her grandmother.
From the kitchen of Sallie Reese
"Good Morning America" is counting down to Christmas with the chance for "GMA" viewers to showcase their favorite original holiday cookie recipes. "GMA" viewer Sallie Reese, of Vienna, Virginia, shared her recipe for Norwegian Christmas Cookies that was handed down to her from her great-grandmother. Try this recipe at your next holiday gathering and submit your own recipe HERE!
Ingredients
Cookies:
1/2 lb sweet butter
1/2 lb powdered sugar (2 cups)
2 eggs
2 Tablespoons cream
1 lb flour (3 1/3 cups)
Topping:
3 egg whites
1/2 lb powdered sugar
1 (8 oz) package coconut flakes
Cooking Directions
"My mother made them every year and said the recipe came from her grandmother. They were my favorite because they had coconut on top. I have never found this recipe in any cookbook or online. They are perfect round butter cookies with a large snow-like mound of meringue and coconut (the bigger the better) piled on top. When you bite into them - YUM- you get a mix of crunchy baked meringue with soft sweet coconut inside with a delicious plain butter cookie on the bottom."
Mix ingredients in order, chill and roll.
Cut cookies about 3 inches round.
Make the topping by beating three egg whites stiff. Add 1/2 lb of powdered sugar and continue beating until thick. Then add 1 (8oz) package coconut flakes.
Put tablespoon of meringue on top before baking.
Bake cookies for 10 to 12 minutes at 350 degrees.
Recipe courtesy Sallie Reese.
Recipe styled by Karen Pickus, chef/food stylist, "Good Morning America."
Recipe Summary
Main Ingredients: sweet butter, powdered sugar, eggs, flour, coconut flakes
Course: Dessert