Oat and Honey Pancakes With Strawberry Syrup
Start the Day Off Right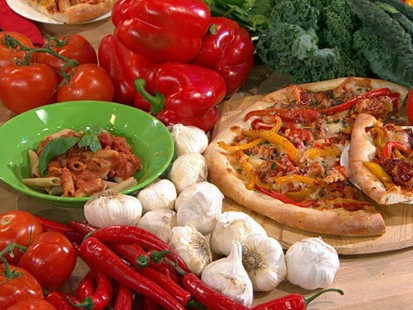 Ellen Kunes, Frances Largeman-Roth explain how to lose weight and eat great.
From the kitchen of The CarbLovers Diet Cookbook
What could be better for breakfast than a stack of hot pancakes? A stack of pancakes packed with Resistant-Starch! And this recipe also features a delicious (and simple) topping of antioxidant-rich strawberries.
Ingredients
Cooking spray
1 cup whole-wheat flour
½ cup all-purpose flour
¼ cup toasted wheat germ
2 cups old0fashioned rolled oats
1 tablespoon baking powder
½ teaspoon salt
½ teaspoon ground cinnamon
2 tablespoons honey
2 tablespoons sugar, divided
2 cups low-fat milk (1%)
2 large eggs
2 tablespoons vegetable oil
1 quart strawberries , hulled and
quartered
1 tablespoon fresh lemon juice
Cooking Directions
Place flours, wheat germ, oats, baking powder, salt, and cinnamon in a food processor, process until combined.
Whisk together honey, 1 tablespoon sugar, milk, eggs, and vegetable oil in a large bowl; stir in flour mixture until well combined. Let stand 5 minutes.
Meanwhile, combine strawberries, lemon juice, and remaining tablespoon sugar in a large bowl. Crush with clean hands; set aside.
Heat a nonstick griddle or skillet over medium heat. Coat pan with cooking spray. Pour about ¼ cup batter per pancake onto pan. Cook for 2 minutes or until tops are covered with bubbles and edges are cooked. Using a spatula, carefully turn pancakes over; cook 1 minute more or until bottoms are lightly browned. Transfer pancakes to a plate; keep warm. Repeat with remaining batter. serve with strawberry topping (you will have some left over).
Serving size: About 3 pancakes, 4 tablespoons strawberry topping Calories: 395; Fat 10.6g (sat 2g, mono 2.9g, poly 4.7g); Cholesterol 66mg; Protein 14g; Carbohydrates 65g; Sugars 20g; Fiber 8g; RS 7.6g; Sodium 499mg
This recipe was styled by chef Karen Pickus for Good Morning America.
Recipe courtesy The CarbLovers Diet Cookbook.
Recipe Summary
Main Ingredients: what germ, whole-wheat flour, salt, cinnamon, vegetable oil, lemon juice
Course: Breakfast