Emeril Lagasse's Oatmeal Blueberry Pancakes
A Bam! Breakfast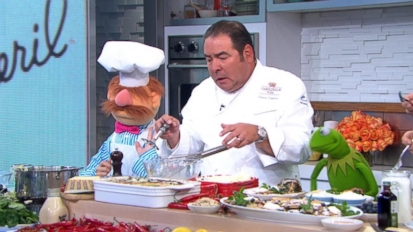 The Muppets join Emeril in the kitchen to cook up a crustless quiche with spinach and gruyere.
From the kitchen of Emeril Lagasse
|
Sick of your normal oatmeal or blueberry breakfast? In true Emeril fashion, kick your morning up a notch with his recipe for oatmeal blueberry pancakes below.
Ingredients
1 1/2 cups old-fashioned rolled oats
1/2 cup all-purpose flour
2 tablespoons light brown sugar
1 1/2 teaspoons baking soda
1 teaspoon baking powder
1 teaspoon lemon zest (about 1 lemon)
1/4 teaspoon salt
1/4 teaspoon nutmeg
2 cups buttermilk
2 large eggs, lightly beaten
1 1/2 teaspoons vanilla extract
1 cup blueberries (fresh or frozen)
Nonstick cooking spray
8 ounces non-fat, plain Greek yogurt
2 tablespoons maple syrup or honey
Cooking Directions
Heat a heavy skillet or griddle pan over medium heat.
In a large bowl combine the oats, flour, brown sugar, baking soda, baking powder, lemon zest, salt and nutmeg and mix well.
In a small bowl combine the buttermilk, eggs and 1 teaspoon of the vanilla extract and mix well. Add the wet ingredients to the dry ingredients and stir until combined but do not over mix. Gently fold in the blueberries.
Spray the skillet or griddle with the nonstick cooking spray and drop ¼ cup of the batter onto the pan for each pancake. Cook the pancakes for 6 minutes, or until they are golden brown. Allow the pancakes to fully set before trying to flip them. Flip to the other side and continue to cook another 2 minutes until the pancakes are golden brown on the second side. Transfer the pancakes to a platter and cover with foil until ready to serve.
In a small bowl combine the Greek yogurt, maple syrup and the remaining ½ teaspoon vanilla extract and set aside.
Serve the pancakes with the maple syrup spiked yogurt.
Recipe courtesy Emeril Lagasse, copyright MSLO, Inc., all rights reserved.
This recipe was styled by Karen Pickus for Good Morning America.
Other Recipes That You Might Like