The Pioneer Woman's Olive Cheese Bread
Watch These Cheesy Snacks Disappear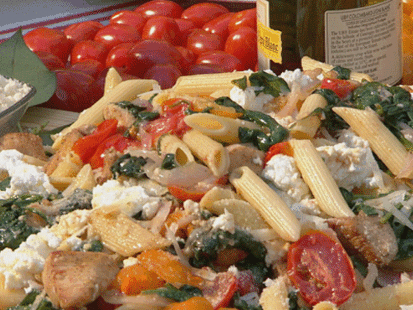 Food Network star and host of "The Pioneer Woman" also prepares her olive cheese bread.
From the kitchen of Ree Drummond
Watch these cheesy snacks disappear off your dinner table!
Ingredients
1 loaf French Bread
6 ounces, weight Pimiento-stuffed Green Olives
6 ounces, weight Black Olives
2 stalks Green Onions (scallions)
1 stick Butter, Room Temperature
1/2 cup Mayonnaise
3/4 pounds Monterey Jack Cheese, Grated
Cooking Directions
Roughly chop both black olives and pimiento-stuffed green olives. Slice green onions into thin pieces.
Combine butter, mayonnaise, cheese, olives and green onions in a mixing bowl. Stir together until thoroughly combined. Spread mixture onto French bread that has been sliced lengthwise. Bake at 325ºF for 25 to 30 minutes or until cheese is melted and browning.
Mixture can also be refrigerated (up to two days) and used as a dip. Great with crackers.
Recipe courtesy The Pioneer Woman.
This recipe was styled by chef Karen Pickus for Good Morning America.
Recipe Summary
Main Ingredients: scallions, butter, mayonnaise, bread, green olives
Course: Appetizer/Starter