'GMA' Lunch Break: Michael Psilakis' Open-Faced Smoked Salmon Sandwiches Recipe
As Seen on the 'GMA' Lunch Break Live Stream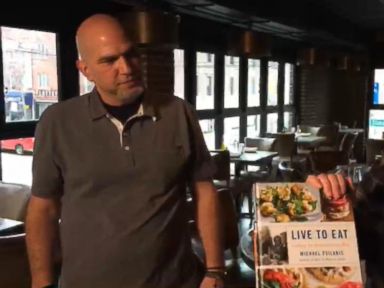 The Greek chef and restaurateur showed "Good Morning America" how to make crowd-pleasing recipes for rigatoni, salmon sandwiches and iced tea.
From the kitchen of Michael Psilakis
"GMA" caught up with Greek chef and restaurateur Michael Psilakis in New York City. Psilakis is out with a new cookbook, "Live to Eat: Cooking the Mediterranean Way," and shared his recipe for smoked salmon sandwiches.
Watch the "GMA" Lunch Break live stream on ABCNews.com/live and the GMA Facebook page daily at 12:30 p.m. ET.
Ingredients
2 whole grain English muffins, split and toasted
1/2 cup Greek yogurt
4 ounces smoked salmon, cut into paper-thin slices
2 large beefsteak tomatoes (preferably yellow), cut into 1/4-inch-thick slices
1/2 small red onion, cut into paper-thin slices
1 cup packed argula
4 teaspoons chopped fresh dill
1 teaspoon extra virgin olive oil
Kosher salt
Fresh ground black pepper
Cooking Directions
Spread each English muffin half with some of the yogurt.
Arrange the smoked salmon on the muffin and top with the tomatoes, red onion, arugula, and dill.
Drizzle with olive oil and season with salt and pepper to taste.
Recipes courtesy of "Live to Eat: Cooking the Mediterranean Way" copyright 2017 by Michael Psilakis / Hachette Book Group – Little, Brown and Company. Reprinted with permission for "Good Morning America."
Recipe Summary
Main Ingredients: english muffins, smoked salmon, greek yogurt, tomatoes, red onion, argula
Course: Dinner, Lunch