Oreo Cream Cheese Brownies
The Most Addicting Brownies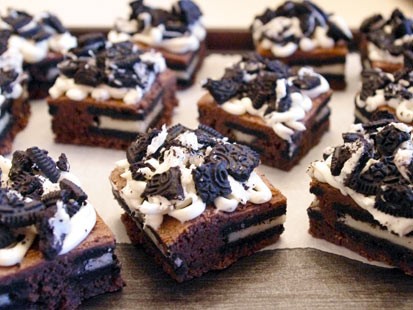 From the kitchen of Lauren Torrisi
These Oreo cream cheese brownies are nothing short of heavenly. Spread half of the brownie batter in the pan, layer the Oreos, and then spread the remaining batter on top. I used a 9x9 inch pan for thinner brownies, but if you prefer a thicker result use a 7x7 inch pan.
Visit Lauren's blog to see more recipes and photos of the desserts.
Ingredients
For the brownies:
4 oz chocolate
3/4 cup butter
1 1/2 cup sugar
1 teaspoon vanilla
3 eggs
1/2 teaspoon salt
1 cup AP flour
1/4 cup cocoa
1 package Double Stuf Oreos
For the topping:
1 pound cream cheese
1/3 cup confectioner's sugar
Extra Oreos, crushed, for topping
Cooking Directions
Preheat oven to 350 degrees.
In a double boiler, melt chocolate and better until just melted.
Add sugar, salt and vanilla. Add eggs, one at a time, mixing until just combined.
Add flour and cocoa powder and mix. The batter will be thick.
Spray a 7x7 inch baking pan with cooking spray. Using a spatula, spread half of the batter evenly in the pan. Line the surface with the Double Stuf Oreos putting them as close as possible.
Top with the remaining batter and spread with a spatula.
Bake for 35 minutes or until cake tester comes out clean. Set aside. Cut the brownies when they are cool.
For the topping:
Using an electric mixer, beat the cream cheese until smooth. Add confectioners sugar and mix until combined and there are no lumps.
Spread the cream cheese mixture on the brownies. Sprinkle crushed Oreos on top.
Recipe courtesy Lauren Torrisi.
Recipe Summary
Main Ingredients: chocolate, butter, sugar, oreo cookies, confectioners sugar, cream cheese
Course: Dessert
More Info: Kid Friendly