Oven-Roasted Chicken Wings
Super Bowl Party Emeril Style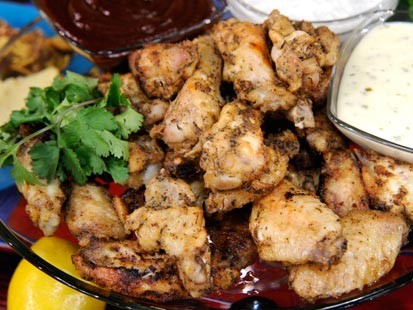 From the kitchen of Emeril Lagasse
Game day is upon us and part of watching the game is eating! Enter Emeril with a must make recipe!
Ingredients
4 pounds chicken wings, wing tips removed and discarded, separated at the joint
1/4 cup freshly squeezed lemon juice
1 tablespoon freshly ground black pepper
1 tablespoon garlic powder
1 tablespoon onion powder
2 teaspoons salt
2 teaspoons dried thyme
1/2 teaspoon cayenne pepper
4 tablespoons (1/2 stick) butter, melted
Your favorite sauce (such as barbecue sauce, ranch dressing, or blue cheese dressing), for serving (optional)
Cooking Directions
Preheat the oven to 500 degrees F. Line a large rimmed baking sheet with aluminum foil.
In a large mixing bowl, combine the wings and the lemon juice and mix thoroughly. Add the pepper, garlic powder, onion powder, and salt.
While crushing it between your fingers, add the thyme. Mix again, and add the cayenne and melted butter. Mix thoroughly a final time.
Then transfer the wings to the prepared baking sheet, and arrange them in one layer.
Roast in the oven for 10 minutes. Rotate the pan and roast for 10 minutes longer, until the wings are nicely browned and cooked through. Serve as is or with your favorite dipping sauce.
4 to 6 servings
Prep time: 15 minutes Cook time: 20 minutes Total: 35 minutes
Recipe courtesy Emeril Lagasse, Emeril 20-40-60, Fresh Food Fast, HarperStudio Publisher, New York, 2009, courtesy MSLO Inc.
Recipe Summary
Main Ingredients: chicken wings, barbecue sauce, blue cheese
Course: Appetizer/Starter, Party Platter