Papa G's Chicken
Papa Gaga's Favorite Recipe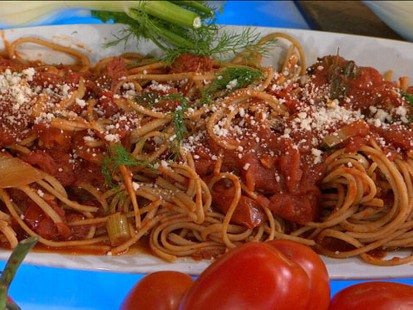 Chef Art Smith cooks up some of pop superstar's favorite foods.
From the kitchen of Art Smith
|
This recipe is a Germanotta family favorite. Make it tonight for your Little Monsters!
Ingredients
2.75-3.25 # whole chickens butchered into 1/8. French end of wing piece.
Peperoncinis
Slivered garlic
½ balsamic ½ red wine mix (in squirt bottle for line)
chiffinod basil
chopped parsley
small pat butter
Cooking Directions
Brine butchered chicken right before in mix of salt, sugar, and bay leaf.
Pull out chicken and pat dry.
(Per order)
2-3 pieces chicken salt and peppered. Deep fry the pieces (aprox 3.5 mins) Heat olive oil in a skillet add chicken .
Add about 3-4 peperoncini and a bit of their juice. Add aprox ½ tablespoon of slivered garlic. Immediately add generous splash of vinegar so garlic doesn't brown. Turn off heat and add a pat of butter.
Add fresh chopped parsley and chiffonade of basil.
Recipe courtesy Art Smith.
This recipe was styled by chef Karen Pickus for Good Morning America.
Other Recipes That You Might Like