Bobby Flay's Pasta Antica
Iron Chef Eats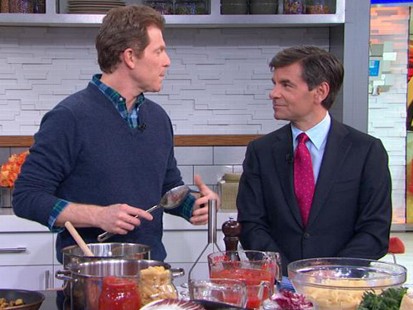 The TV chef cooks up a meal from the menu of his new Manhattan restaurant.
From the kitchen of Bobby Flay
Before he wowed you as a Food Network star and Iron Chef, Bobby Flay got his start on the line in restaurant kitchens. Heading back to his culinary school roots, Flay recently opened Gato, a Mediterranean-focused restaurant in New York City. Check out Gato's recipe for pasta antica below.
Ingredients
1/2 cup olive oil, divided
1 medium eggplant, partially peeled (leaving 1 inch sections with skin on) and cut into 3/4"dice
4 cups Tomato-Piquillo Sauce (recipe below)
1 pound Elicoidali, or another rigatoni or penne shaped pasta, cooked al dente in salted water and drained, 1 cup pasta cooking water reserved (in case you need to thin out your sauce)
1 small head radicchio, torn into bite size pieces
2 cups olive ricotta cheese, recipe below
Parsley, chopped
Oregano, chopped
Parmigiano reggiano, grated
Salt
Freshly ground black pepper
Cooking Directions
Heat 1/4 cup olive oil in a large high-sided saute pan over high heat until oil begins to shimmer. Working in batches, add the eggplant and season with salt and pepper and saute until golden brown on all sides and the eggplant is just cooked through. Remove with a slotted spoon to a plate and repeat with remaining eggplant.
Reduce heat to medium and add tomato-piquillo sauce (recipe below) to the pan, stirring occasionally. Add the pasta and return the eggplant to the pan to warm through. Add the radicchio and fold in, just to lightly wilt it.
Transfer pasta to a large shallow bowl, top with dollops of olive ricotta cheese (recipe below) and grated parmigiano; garnish with fresh herbs
Tomato-Piquillo Sauce
10 - 12 piquillo peppers, roughly chopped (if you cannot find canned piquillos, 4 roasted red peppers can be used)
3 tablespoons olive oil
1 large yellow onion, finely diced
4 cloves garlic, finely chopped
1/4 teaspoon Calabrian red pepper flakes
2 (28-ounce) cans plum tomatoes and their juices, crushed with your hands
Sugar to taste
Kosher salt and freshly ground black pepper
1/4 cup chopped flat leaf parsley
1 tablespoon finely chopped fresh oregano
Put the piquillo peppers in a blender or food processor and process until smooth. Scrape puree into a bowl.
Heat the oil in a large Dutch oven over medium-high heat. Add the onion and cook until soft. Add the garlic and red chile flakes and cook for 1 minute.
Add the tomatoes, bring to a boil and cook, stirring occasionally, until tomatoes are slightly softened, about 25 minutes; add sugar to taste (about 2 teaspoons). Using a potato masher, coarsely mash the tomatoes and add the red pepper puree and continue cooking the sauce, stirring occasionally, until thickened, about 20 minutes longer. Add the parsley and oregano and season with salt and pepper.
Black Olive Ricotta Cheese
1 1/2 cups pitted kalamata olives, coarsely chopped
2 garlic cloves, chopped
1 tablespoon capers
1 tablespoon lemon zest
2 cups ricotta cheese
Salt
Freshly ground black pepper
Combine olives, garlic, capers and lemon zest in bowl of food processor and pulse until mixture is coarsely chopped. Carefully transfer mixture to a bowl.
Swirl into ricotta cheese, season with salt and pepper and set aside.
Recipe courtesy Bobby Flay.
This recipe was styled by chef Karen Pickus for Good Morning America.
Recipe Summary
Main Ingredients: eggplant, pasta, tomato sauce, ricotta
Course: Dinner