Home
>
GMA
>
Wolfgang Puck's Pasta with Broccoli Rabe, Goat Cheese, Sun-Dried Tomatoes and Toasted Pine Nuts
Wolfgang Puck's Pasta with Broccoli Rabe, Goat Cheese, Sun-Dried Tomatoes and Toasted Pine Nuts
Lighten Up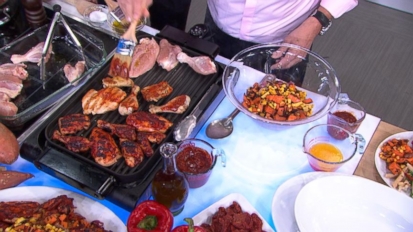 The famed chef "Makes It Healthy" in his first cookbook in 10 years.
From the kitchen of Wolfgang Puck
Wolfgang Puck, arguably the country's first celebrity chef, has built an empire on his brand of cooking that blends Californian and European cuisines. Now, he's lightening up some American favorites in his new book "Wolfgang Puck Makes It Healthy," and we've got his recipe for Pasta with Broccoli Rabe, Goat Cheese, Sun-Dried Tomatoes and Toasted Pine Nuts below.
Ingredients
1 tablespoon extra-virgin olive oil
3 cups broccoli rabe, cut into
1- to 1 1/2-inch pieces
4 garlic cloves, minced
1/4 to 1/2 teaspoon red pepper flakes
Kosher salt
Freshly ground black pepper
1 1/2 cups homemade Chicken Stock or good-quality canned low-sodium broth
1 teaspoon chopped fresh thyme leaves
4 ounces fresh, creamy goat cheese, crumbled
3/4 pound dried whole wheat bow tie pasta or other bite-size whole-grain pasta shapes
1/4 cup thinly sliced sun-dried tomatoes
2 tablespoons pine nuts, toasted
Cooking Directions
Bring a large pot of water to a boil.
In a nonstick sauté pan, heat the olive oil over medium-high heat. Add the broccoli rabe, garlic, and red pepper flakes and sauté, stirring frequently, until the broccoli rabe is bright green and just beginning to turn tender, 3 to 5 minutes. Season lightly with salt and pepper, transfer to a bowl, and set aside.
Still over medium-high heat, add the stock to the pan and stir and scrape to deglaze the pan. Add the thyme. Bring the liquid to a brisk simmer. Add about three-quarters of the goat cheese and stir until it melts and the liquid has a creamy coating consistency. Cover and keep warm.
As soon as the pot of water comes to a boil, salt the water. Add the pasta and cook until al dente—tender but still chewy—following the manufacturer's suggested cooking time. Drain the pasta and immediately add it to the pan of sauce along with the broccoli rabe and sun-dried tomatoes. Cook over medium-low heat, stirring gently, until all the ingredients are heated through, about 2 minutes. Season to taste with salt and pepper.
Divide the pasta among four heated serving plates or shallow pasta bowls. Sprinkle with the remaining goat cheese and toasted pine nuts. Serve immediately.
Recipes from WOLFGANG PUCK MAKES IT HEALTHY. Copyright © 2014 by Wolfgang Puck Worldwide, Inc. Used with permission by Grand Central Publishing. All rights reserved.
This recipe was styled by Karen Pickus for Good Morning America.
Recipe Summary
Main Ingredients: broccoli rabe, chicken stock, goat cheese, sun dried tomatoes, pasta, pine nuts
Course: Salad