Fabio Viviani's Pasta in a Jar
Simple Pasta Dish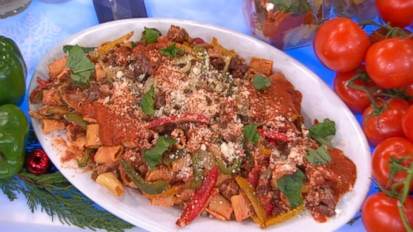 The owner of Chicago's Siena Tavern cooks up some Italian dishes perfect for the holidays.
From the kitchen of Fabio Viviani
|
Fabio Viviani of "Top Chef" fame stopped by "Good Morning America" to share dishes from his cookbook, "Fabio's Italian Kitchen." Try his recipe for pasta in a jar here.
Ingredients
1 pound Mezza rigatoni
8 ounces Tomato sauce
12 ounces Italian sausage
1 each Red, Yellow & Green bell peppers, thinly sliced
½ Spanish onion, thinly sliced
8 ounces Fresh ricotta cheese
½ cup Grated parmesan cheese
¼ cup Olive oil
3 Tbs. Unsalted butter
2 ounces Heavy Cream
6 Large basil leaves rough chopped
Kosher salt and cracked black pepper, to taste
4 Large flip top jars with lid
Cooking Directions
Heat sauté pan with butter and sauté the onions on medium-low heat until well caramelized. Add in the sliced peppers and sauté until peppers are nice and soft, season with a pinch of salt and pepper, set aside.
Cook the sausage until well caramelized, set aside
Heat a pot of boiling salted water and cook pasta until al dente.
In a small saucepot bring the tomato sauce to a simmer and then finish the sauce with the cream and the sautéed peppers and onions.
Strain the pasta and add equal amounts of pasta into the jars, then portion out the cooked sausage and then finish with equal amounts of sauce gently ladled into each jar.
Take a spoonful of ricotta cheese and top the pasta in the jar, finish each jar with some grated parmesan cheese and basil, drizzle with good olive oil, close the lid and shake very well. Pour the pasta into a plate and enjoy!
Recipe courtesy of Fabio Viviani and Chef David Blonsky of DineAmic Group.
This recipe was styled by chef Karen Pickus for Good Morning America.
Other Recipes That You Might Like