Patrick Connolly's Super Lobster Bowl Roll
A Sandwich for Patriots Fans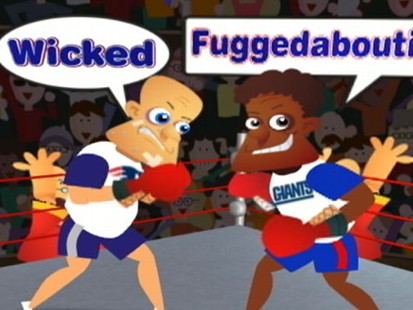 Chefs Patrick Connolly, Marc Forgione battle for 2012's top Super Bowl sandwich.
From the kitchen of Patrick Connolly
Are you a Patriots fan? This recipe was created by chef Patrick Connolly for our Super Bowl chef showdown!
Ingredients
For the lobster roll:
12"X 4"Brioche hoagie roll
3 cups lobster meat, diced
½ cup Mayonnaise
Zest of 1 lemon
2 Hard Boiled Eggs, chopped
1 head Boston Lettuce
8 ea Cornichons, sliced into rings
1T Capers, chopped
1T tarragon, chopped
1t Celery Salt
Bag of Cape Cod Potato Chips
For the roasted potatoes with bacon:
12 oz Fingerling potatoes, cut into lengthwise quarters
2 oz bacon , diced
2T NH maple syrup
2T VT butter
1t Chopped fresh thyme
1T Sherry Vinegar
Kosher salt
Black pepper
Cooking Directions
Slice the roll horizontally lengthwise almost all the way through so as to create a hinge and hollow out some of the top half.
In a mixing bowl, combine the lobster meat, mayonnaise, lemon zest, eggs, cornichons, capers & tarragon
Remove the core from the lettuce and arrange the leaves on the inside bottom and inside top of the roll. Spoon the dressed lobster salad onto the lettuce on both sides. Arrange a few of the potato chips on the bottom half on top of the lobster.
Season with a bit of the celery salt. Close it up carefully and get in there.
For the roasted potatoes:
Preheat the oven to 350 degrees.
In a dry oven safe pan, add the bacon and begin to cook over medium heat. Cook for 2 minutes (until the bacon begins to render well) then add the potatoes. Continue to cook, not stirring anything, for 2 minutes.
Add the butter, stir it all together, and continue to cook on medium for 5 minutes (the butter will brown.) Place the pan in the oven for another 5 min. Remove the pan, bring it back to a low burner, and add the maple, sherry vinegar, thyme , salt & pepper. Stir the remaining ingredients in with a wooden spoon and serve.
This recipe was styled by chef Karen Pickus for Good Morning America.
Recipe courtesy Patrick Connolly.
The Kick Hunger Challenge benefits food banks in all NFL cities. Make a donation on behalf of your favorite NFL team at www.KickHungerChallenge.com.
Recipe Summary
Main Ingredients: thyme, vinegar, butter, pepper, brioche roll
Course: Party Platter
More Info: Kid Friendly