Paula Deen's Collard Greens
A Healthy Side Dish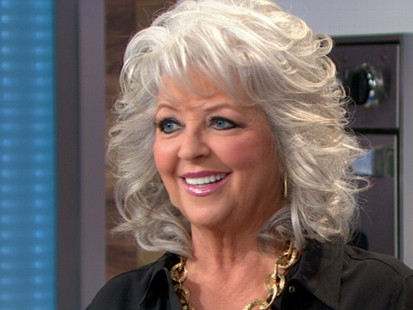 After learning she has Type 2 diabetes, Paula Deen changed her eating habits to shed pounds.
From the kitchen of Paula Deen
A traditional southern favorite that will go great on your table. Collards are a New Year's tradition in the south as well!
Ingredients
1 large bunch collard greens
1 tablespoon Paula Deen's Seasoned Salt
1 tablespoon Paula Deen's Hot Sauce
1 tablespoon butter
Cooking Directions
In a large pot, bring 3 quarts of water to a boil and add house seasoning, seasoned salt and hot sauce. Reduce heat to medium and cook for 1 hour.
Wash the collard greens thoroughly. Remove the stems that run down the center by holding the leaf in your left hand and stripping the leaf down with your right hand. The tender young leaves in the heart of the collards don't need to be stripped. Stack 6 to 8 leaves on top of one another, roll up, and slice into 1/2 to 1-ince thick slices. Place greens in pot with meat and add butter. Cook for 45 to 60 minutes, stirring occasionally. When done taste and adjust seasoning.
Serve with favorite dish as a side.
Optional: You can add 1/2 lb smoked meat (ham hocks, smoked turkey wings, or smoked neck bones).
Prep Time: 20 in
Cook Time: 2 hours
Original Recipe courtesy Paula Deen.
This recipe was styled by chef Karen Pickus for Good Morning America.
Recipe Summary
Main Ingredients: collard greens, butter, salt
Course: Side Dish