Paula Deen's Best Ever Southern Fried Chicken
Try This Southern Classic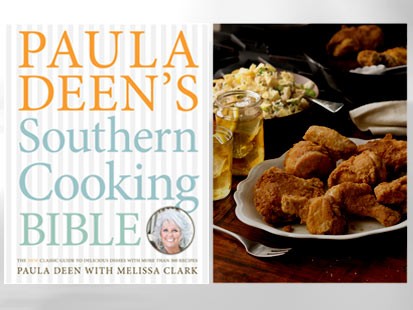 From the kitchen of Paula Deen
|
Check out "Paula Deen's Southern Cooking Bible", excerpted below.
In my book, a well-fried chicken is among life's greatest accomplishments, and I can truthfully
claim that I wouldn't be where I am without the fried chicken recipe I'm sharing with y'all here.
You could say I am practically made of Southern fried chicken—certainly I grew up eating and
cooking it. I use some hot sauce to season the crust, and I love to fry in shortening, which gives
the crust a particularly crunchy texture. But I don't see the need for any other tricks and frills with
a skillet of fried chicken: some things in life cannot be improved upon.
Ingredients
3 large eggs
2 cups self-rising flour
black pepper and salt
1 whole chicken (1 to 21/2 pounds), rinsed,
patted dry, and cut into 8 pieces
solid vegetable shortening, for deep-frying
Cooking Directions
In a shallow bowl, lightly beat the eggs with 1/3 cup water. In a separate shallow bowl, combine
the flour and 1 teaspoon black pepper. Lightly season the chicken all over with salt and black
pepper. Dip the chicken pieces in the egg mixture, letting any excess drip off, and then coat well
in the flour mixture.
In a large skillet, heat the shortening over medium-high heat until it melts and reaches 350°F
on a deep fry thermometer; you'll want a depth of 2 inches. Add the chicken and cook until
browned and crisp, 13 to 14 minutes for the dark meat and 8 to 10 minutes for the white meat. And
just like that, you've got yourself the best ever Southern fried chicken.
Taking The Temperature
Be extra careful when using a deep fry thermometer. And make sure it doesn't have
any moisture on it that can make the oil spatter. Insert it into the melted shortening,
angling it away from the bottom of the pan so you get an accurate read on the
temperature of the oil—not the bottom of the pan!
From PAULA DEEN'S SOUTHERN COOKING BIBLE by Paula Deen with Melissa Clark. Copyright © 2011 by Paula Deen. Reprinted by permission of Simon & Schuster, Inc, NY.
Other Recipes That You Might Like