Marcus Samuelsson's Peanut-Bacon Pork Chops
Bacon and Peanuts Add Flavor and Crunch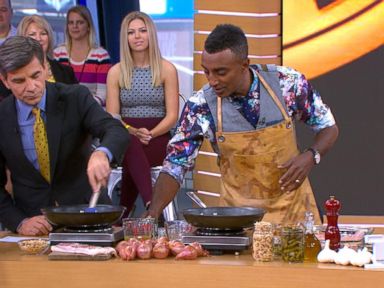 The celebrated chef visits Times Square to share recipes from "The Red Rooster Cookbook," his latest publication.
From the kitchen of Marcus Samuelsson
Chef Marcus Samuelsson shares his recipe for peanut-bacon pork chops from his new cookbook, "The Red Rooster Cookbook: The Story of Food and Hustle in Harlem."
"When in doubt, add bacon to pork. Then add peanuts for a smoky crunch," he writes.
Serve with Spicy Sweets and Green Beans (Click here for recipe).
Ingredients
FOR THE PEANUT-BACON SAUCE:
1/2 pound bacon, chopped
1/2 cup roasted peanuts
2 shallots, minced
2 garlic cloves, minced
1 teaspoon mustard seeds
1/2 cup dry red wine
1 cup chicken broth
1/4 cup juice from Pickled Cucumbers and Radishes or pickled gherkins, plus 1 tablespoon chopped pickled cucumber or pickled gherkins
1/2 teaspoon fresh thyme leaves
1 tablespoon peanut butter
1 tablespoon unsalted butter
Coarse salt and freshly ground black pepper
FOR THE PORK CHOPS:
3 tablespoons olive oil
2 tablespoons Jerk Sauce
4 (12-ounce) center-cut pork chops (1 1/2 inches thick)
Cooking Directions
FOR THE PEANUT-BACON SAUCE:
Cook the bacon and peanuts in a skillet over medium heat until the fat has rendered and the bacon is crisp, 12 to 14 minutes. Use a slotted spoon to transfer the bacon and peanuts to a bowl. Pour off all but about 1 tablespoon of the bacon grease. Add the shallots, garlic, and mustard seeds and cook, stirring, until the shallot has softened, about 2 minutes.
Add the wine and bring it to a simmer, stirring to dissolve the brown stuff in the skillet. Add the chicken broth, pickle juice, and thyme and bring to a simmer.
Turn the heat down to medium low and cook at an simmer until reduced by two thirds, about 25 minutes.
Stir in the chopped pickle, peanut butter, butter, and the bacon and peanuts. Season to taste with salt and pepper. Keep warm.
FOR THE PORK CHOPS:
While you're working on the sauce, mix 2 tablespoons of the olive oil with the jerk sauce. Rub over both sides of the pork chops.
Heat the remaining 1 tablespoon oil in a cast-iron skillet over medium heat. Add the pork chops and cook until they reach in internal temperature of 140°F, 6 to 7 minutes per side.
Let the chops rest on a cutting board for 5 minutes before serving with the sauce.
Serve with Spicy Sweets and Green Beans (Click here for recipe).
Copyright 2016 by Marcus Samuelsson. Photographs by Bobby Fisher. Houghton Mifflin Harcourt Publishing Company.
Recipe Summary
Main Ingredients: bacon, roasted peanuts, garlic, pork chops, olive oil
Course: Main Course, Dinner