Peanut Butter and Hershey's Kisses Cookies
Try This Holiday Treat!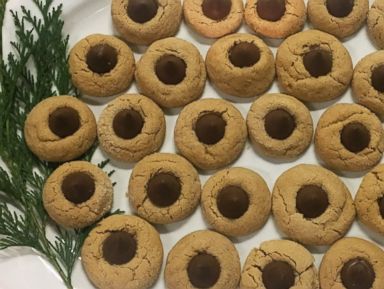 From the kitchen of 'GMA' Cookie Search
This holiday season is the perfect time to try out these delicious peanut butter cookies with a Hershey's kiss in the center of each cookie.
"GMA" is counting down to Christmas with the chance for "GMA" viewers to showcase their favorite original holiday cookie recipes. Try this recipe at your next holiday gathering and submit your own recipe HERE!
Ingredients
1/2 cup butter
1/2 cup brown sugar
1/3 cup sugar, plus some extra sugar for rolling
3/4 cup peanut butter
1 egg
1 tsp. Baking powder
1/2 tsp. salt
1 and 1/4 cup flour
48 Hershey kisses, unwrapped
Cooking Directions
Preheat the oven to 375 degrees.
Cream butter and sugars until light and fluffy, add the egg. Scrape down the sides.
Combine the dry ingredients in a separate bowl. Add the dry ingredient just to combine.
Roll balls of dough about the size of a round quarter.
Place on non-greased cookie sheets, 12 per tray.
Place in preheated oven for about 10-12 minutes.
When cookies are done remove from the oven and place a Hershey's kiss in the middle of each cookie. Let the cookies cool for 10 minutes on the trays then remove to a wire rack and cool completely. Place in tins or plastic containers with lids.
Recipe styled by Karen Pickus, chef/food stylist, "Good Morning America."
Recipe Summary
Main Ingredients: butter, brown sugar, peanut butter, hershey kisses
Course: Dessert