Peanut Butter Kiss Cookies
A Semi-Homemade Seasonal Sweet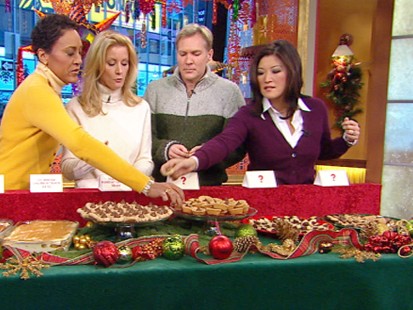 Sandra Lee explains how to prepare a great holiday dessert for cheap.
From the kitchen of Sandra Lee
|
Ingredients
1 package (18-ounce) refrigerated Pillsbury sugar cookie dough, room temperature
1/2 cup peanut butter
1m package (8.5-ounces) Hershey's Kisses
*Special Equipment: 3 12-cup mini-cupcake pans
Cooking Directions
1. Preheat oven to 350 degrees F. Lightly butter three 12-cup mini- cupcake pans.
2. Knead cookie dough and peanut butter just until swirled. Press about 1 rounded teaspoon of dough into each cup of prepared mini cupcake pans. Bake for 12 minutes or until cookies are light golden brown. Cool slightly in pan.
3. When slightly cool make indention in center of each cookie. Remove from pans to cooling rack. When completely cool, place a chocolate kiss in the center.
Makes 36 cookies
Prep time 20 minutes
Baking time 12 minutes per batch
Frosting time 5 minutes
Other Recipes That You Might Like