Pear Tartlets With Homemade Creme Fraiche
Give the Potatoes a Break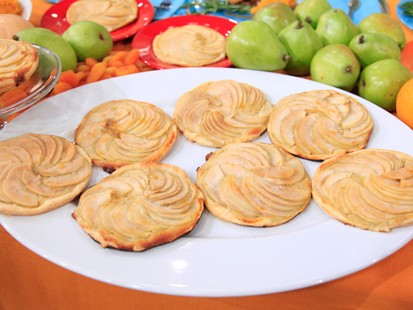 From the kitchen of Emeril Lagasse
Ingredients
1 large egg
1/3 cup plus 3 teaspoons sugar
3 1/2 tablespoons all-purpose flour
4 tablespoons (1/2 stick) unsalted butter
1 vanilla bean, split lengthwise
1 tablespoon finely grated orange zest
1/4 teaspoon ground cardamom
2 pinches freshly ground black pepper
8 ounces frozen puff pastry, thawed but still cold
3 firm-ripe pears, such as Anjou
1 lemon, halved
1/4 cup apricot preserves
Homemade creme fraiche or vanilla ice cream, for serving
Cooking Directions
In a small bowl, whisk the egg with the 1/3 cup sugar until blended. Add the flour and stir to combine.
Combine the butter, vanilla bean, orange zest, cardamom, and pepper in a small, heavy saucepan, and
cook over high heat until the butter is light golden brown and has a nutty aroma, about 3 minutes.
Remove the vanilla bean, scraping the seeds into the melted butter. (Discard the scraped vanilla bean pod or reserve it for another use.) Allow the butter to cool slightly; then add it to the flour mixture and stir well to combine. Allow to cool to room temperature. Then refrigerate, covered, until thoroughly chilled, about 1 hour. (This filling can be prepared up to 3 days in advance.)
Cut the puff pastry sheet in half, and roll each half out to approximately 1/8-inch thickness. Using a sharp knife and a small plate as a guide, cut out three 6-inch rounds from each piece of puff pastry. Transfer the rounds to two ungreased baking sheets, cover with plastic wrap, and refrigerate for 30 minutes or up to overnight.
Preheat the oven to 375°F.
Using a sharp knife, cut approximately 1 inch off the top of each pear, so that the remaining fruit is
more or less spherical. Peel, halve, and core the pears. Rub them with the juice of half a lemon to keep them from discoloring. Place 1 pear half, cut side down, on a work surface, and slice it crosswise into about 1/8-inch-thick slices. Do not separate the slices. Repeat with the remaining pear halves. Squeeze more lemon juice over the sliced pears. Reserve any uneven pieces and the end pieces separately.
Remove the puff pastry rounds from the refrigerator, and place 1 heaping tablespoon of the butter filling in the center of each round. Using 1 pear half for each round, decoratively fan the slices in a tight, overlapping circle so that they cover the pastry round. The slices should not extend beyond the edge of the pastry. (If you like, cut any uneven slices or end pieces of pear into small wedge-shaped pieces and place them in the center of the tartlets to form rosettes.) Sprinkle ½ teaspoon of the remaining sugar over each tartlet, and bake for about 30 minutes, or until the pears are tender and the tartlets are lightly browned around the edges.
While the tartlets are baking, heat the apricot preserves in a small saucepan (thin them with a small
amount of water if necessary).
Use a pastry brush to gently brush the top of each tartlet with some of the warm preserves. Serve warm or at room temperature, with a dollop of homemade creme fraiche or vanilla ice cream, as desired.
* Recipe courtesy Emeril Lagasse, "Farm to Fork: Cooking Local, Eating Fresh" courtesy MSLO, Inc
Food styled by Karen Pickus
Recipe Summary
Main Ingredients: puff pastry, pears, apricot preserves
Course: Dessert