Sandra Lee's Pecan Cheese Turkey
Make This Festive Cheese Appetizer for Your Thanksgiving Table.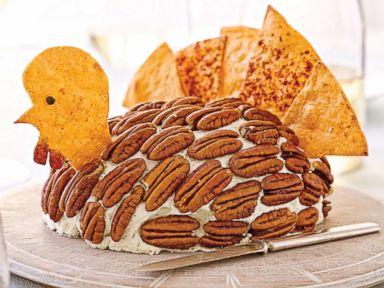 From the kitchen of Sandra Lee
"GMA" is counting down to Thanksgiving all month long. We're inviting the nation's top chefs to share their recipes, tips and tricks for making every part of your holiday dinner. Here is Sandra Lee's turkey shaped cheese appetizer that you can gobble up this Thanksgiving.
Ingredients
1 pound goat cheese
2 pounds cream cheese
2 tablespoons tarragon
Pecans
1 soft tortillas
1 dash paprika
2 black peppercorns
1 egg
Cooking Directions
Mix together 1 pound goat cheese, 2 pounds cream cheese, and 2 tablespoons tarragon and mold it into a mound.
Press in pecans to resemble feathers.
Refrigerate 4 hours.
Fold a soft tortilla in half then cut out a turkey head, giving you two.
Separate heads, place on baking sheet (flip one over), sprinkle paprika on waddles, and use black peppercorns for eyes.
Brush with egg, then bake 8 to 10 minutes at 375°F.
Cut 5 triangles from tortilla for tail feathers, and sprinkle with a mixture of dried tarragon, paprika, and garam masala.
Brush with egg and bake for 10 to 12 minutes.
Remove cheese mound from fridge and let soften 15 minutes.
Insert turkey heads side by side and a fantail of feathers. Gobble up!
Recipe courtesy of Sandra Lee. Used with permission. All rights reserved.
Recipe styled by Karen Pickus, chef/food stylist, "Good Morning America."
Recipe Summary
Main Ingredients: cream cheese, goat cheese, pecans
Course: Appetizer/Starter