Food & Wine's Pecan Pie Bars
Pie For A Crowd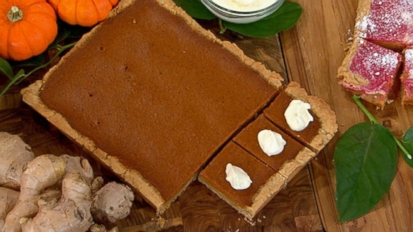 Gail Simmons' pie bars simplify your holiday dessert menu.
From the kitchen of Food & Wine
Baking pies for a large crowd can be intimidating and time-consuming, but Gail Simmons stopped by "Good Morning America" with Food & Wine's quick fix. By using an easy press-in crust and turning the pies into bars, you can feed large amounts of people with a lot less work. Try these simple pecan pie bars this Thanksgiving.
Ingredients
4 tablespoons unsalted butter
1 cup light corn syrup
1 cup dark brown sugar
5 large eggs
1 1/2 teaspoons pure vanilla extract
1 1/2 teaspoons salt
2 cups pecan halves (see note)
Cooking Directions
Preheat the oven to 350°. In a medium saucepan, melt the unsalted butter over moderate heat. Remove the saucepan from the heat and whisk in the light corn syrup and dark brown sugar, then whisk in the eggs until thoroughly blended. Whisk in the vanilla extract and salt and stir in the pecans halves until combined.
Pour the pecan filling into the prebaked pie bar crust and bake for about 35 minutes, until the filling is set. Transfer the pan to a rack and let cool completely. Cut into bars and serve.
Make Ahead: The pecan pie bars can be refrigerated overnight. Serve chilled or at room temperature.
Note: The largest pecans, called mammoth, make a striking presentation. Look for them (approximately 200 to 250 halves per pound) in specialty food shops.
Recipe contributed by Sarah Jordan.
This recipe was styled by chef Karen Pickus for Good Morning America.
Recipe Summary
Main Ingredients: pecans, corn syrup, dark brown sugar, vanilla extract, eggs
Course: Dessert