Peeperoni Peepza
A Sweet Pizza for Dessert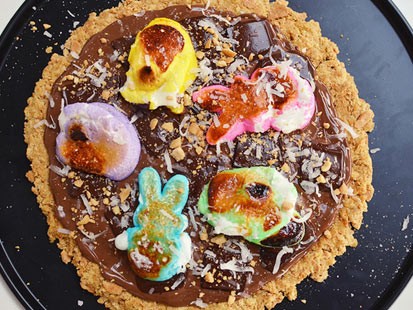 From the kitchen of Buzzfeed
|
Recipe reluctantly yet blissfully created by Emily Fleischaker and Andrew Gauthier for Buzzfeed.
Ingredients
For crust
12 graham crackers crushed (about 2 cups crumbs)
1 teaspoon kosher salt
10 yellow peeps (3 oz)
1 tablespoon butter
For topping
3/4 cup nutella
1 3-oz dark chocolate bar broken into small pieces
5 peeps in whatever color you like
1 tablespoon shredded coconut
1 tablespoon chopped unsalted peanuts
kosher salt to taste
Cooking Directions
For crust:
Preheat broiler. To make crumbs out of the crackers, put crackers in a plastic bag, seal bag, and whack with the back of a spoon. You want mostly small crumbs with some larger chunks mixed in. Add salt and stir to combine.
Microwave butter with 10 peeps for 25 seconds, stir to combine. Coat your hands or a spoon with baking spray then work the melted marshmallow into the graham cracker crumbs. Press the mixture onto a greased baking sheet in one even layer, forming a 12-diameter circle. Allow crust to sit for 10 minutes — if possible in the fridge.
For topping:
Microwave Nutella 30 seconds, then spread it onto the crust. Drop chocolate pieces onto the Nutella. Microwave peeps for 10 seconds, then transfer to pizza with a spatula and place under the broiler for 1-2 minutes, until peeps have browned and chocolate is melty. Top with coconut, chopped peanuts, and kosher salt. Serve warm.
Recipe courtesy Buzzfeed.
This recipe was styled by chef Karen Pickus for Good Morning America.
Other Recipes That You Might Like