Penne with Zucchini and Mint
A Simple Summer Pasta Dish From Franny's Restaurant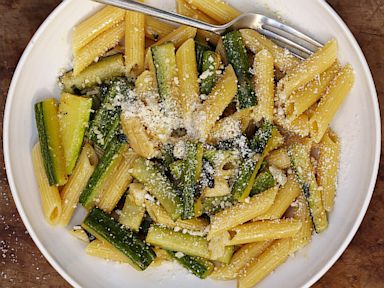 From the kitchen of Franny's
"With its dense, firm texture that can withstand high cooking temperatures, Romanesco zucchini works really well in this early summer pasta dish. Unlike the usual zucchini, it can actually pick up some caramelized brown color in the pan without falling apart. Zucchini tends to be a mild-tasting vegetable, so browning it deeply is important for the flavor here.
To add some body to this otherwise delicate dish, Andrew uses a combination of butter and olive oil—the butter adds richness and helps to emulsify the sauce, and the oil contributes a floral note and a slight bite. Mint and zucchini are a classic Italian combination, and this delicious pasta will show you why."
Ingredients
1 3/4 pounds zucchini, preferably Romanesco, trimmed
1/4 cup extra-virgin olive oil, plus more
for drizzling
Kosher salt
1 pound penne
4 tablespoons unsalted butter
8 garlic cloves, smashed and peeled
1/4 cup plus a scant 3 tablespoons finely grated Parmigiano-Reggiano, plus more
if desired
3 tablespoons chopped mint
1/4 teaspoon freshly cracked black pepper
Cooking Directions
Slice each zucchini into 2-inch-by-1/4-inch batons (you will have about 5 cups).
In a very large skillet (or a Dutch oven), warm 2 tablespoons of the olive oil over high heat. Add half the zucchini, season with salt, and cook, without moving it, until dark golden and almost tender, 2 to 3 minutes. With a slotted spoon, transfer the zucchini to a paper-towel-lined plate. Add another 2 tablespoons olive oil to the skillet and repeat with the remaining zucchini. Add 2 tablespoons water to the pan. Remove from the heat.
In a large pot of well-salted boiling water, cook the pasta according to the package instructions until 2 minutes shy of al dente; drain.
In the same skillet, melt 3 tablespoons of the butter over medium heat. Add the garlic and cook for 2 to 3 minutes. Toss in the penne and zucchini, and cook until the pasta is al dente, 1 to 2 minutes, adding more water if the sauce seems dry. Toss in the 1/4 cup Parmigiano-Reggiano and the remaining tablespoon of butter. Add the mint and season to taste with salt and the pepper.
Divide the pasta among four individual serving plates or bowls and finish each with a drizzle of olive oil and 2 teaspoons or more cheese.
Excerpted from Franny's by Andrew Feinberg, Francine Stephens, and Melissa Clark (Artisan Books). Photos by John von Pamer. Copyright © 2013.
Recipe Summary
Main Ingredients: penne pasta, zucchini, extra-virgin olive oil, unsalted butter, garlic cloves, parmigiano-reggiano
Course: Pasta