Chef Dominique Ansel's Peppermint Snickerdoodles
The Star Chef Shares His Holiday Cookie Recipe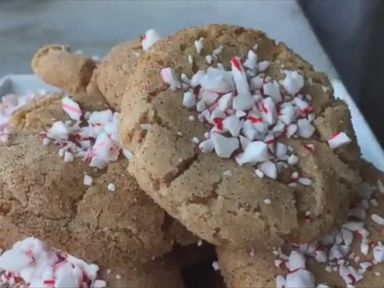 The "cronut" creator shares his delicious holiday peppermint snickerdoodle recipe with "Good Morning America."
From the kitchen of Dominique Ansel
Chef Dominique Ansel is the owner of the award-winning Dominique Ansel Bakery in New York City. Chef Ansel is also the winner of the James Beard Award in 2014 for "Outstanding Pastry Chef," and rose to fame for his delicious "cronut." Chef Ansel shared his delicious holiday peppermint snickerdoodle recipe with "Good Morning America."
"GMA" is counting down to Christmas and wants to see your favorite original holiday cookie recipes. Click here to submit your recipe!
Ingredients
For the dough:
2¾ cups all purpose flour
2 tsp cream of tartar
¼ tsp salt
1 tsp baking soda
2 sticks unsalted butter, softened
1½ cups sugar
2 large eggs
To finish:
¼ cup sugar
2 tbsp ground cinnamon
Crushed peppermint candies
Cooking Directions
Preheat oven to 400°F.
In a large mixing bowl, whisk together flour, baking soda, cream of tartar and salt.
In the bowl of a stand mixer fitted with paddle attachment, mix sugar and butter on medium until fluffy, about 2-3 minutes. Stop mixing and scrape down the sides of bowl, then add eggs and mix on medium until evenly combined, about 1 more minute.
Add the dry ingredients in three additions and mix on medium until combined, scraping down the sides of the bowl between each addition.
Cover the dough with plastic wrap and chill in the fridge, at least 1 hour, until ready to use. (Tip: the dough can also be made the day before.)
In a small bowl, whisk together the ¼ cup sugar and cinnamon.
Using a small ice cream scoop, form balls of dough then roll in the cinnamon sugar. Place about two inches apart on a parchment-lined baking sheet. Bake for 8 to 10 minutes, until the cookies just slightly crack on top. (Tip: these cookies will not brown, so keep an eye out.
They are done when the centers are set and the tops start to crack. Transfer to a wire rack to cool, and finish with a sprinkle of crushed peppermint candies on top.
Recipe Summary
Main Ingredients: sugar, cinnamon, peppermint candies, flour
Course: Cookies