Pepperoni chicken recipe
Try The Pioneer Woman's 15-minute dinner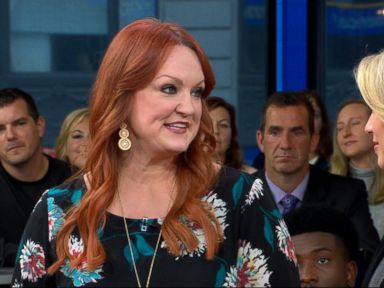 Drummond shares recipes from her new cookbook, "The Pioneer Woman Cooks: Come and Get It!," that are both crowd-pleasing and easy to make.
From the kitchen of Ree Drummond
Ree Drummond is out with a new book, "The Pioneer Woman Cooks: Come and Get It!," filled with simple recipes and dinner ideas for busy lives. Her pepperoni chicken recipe is an easy dinner to make in 15 minutes.

Ingredients
1 boneless, skinless chicken breast
Kosher salt and black pepper
2 tablespoons butter
2 tablespoons olive oil
3 cups good-quality marinara sauce
One 3.5-ounce package sliced pepperoni
2 deli slices mozzarella cheese
Minced parsley, for garnish
Cooked pasta, for serving
Cooking Directions
Use a sharp knife to slice the chicken breast in half through the middle, so that you wind up with two thinner chicken cutlets. Season them with salt and pepper.
In a heavy skillet, melt the butter in the olive oil over medium heat. Add the chicken and cook until it has nice color on the outside and is cooked through, about 2 1/2 minutes per side. Remove the chicken to a plate.
Pour the marinara sauce into the pan and stir to heat it through. Nestle the chicken cutlets in the sauce and arrange the pepperoni slices on top followed by the mozzarella. Cover the skillet and cook for 2 to 3 minutes, or until the cheese has melted.
Sprinkle with parsley then spoon plenty of the sauce over the pasta, and lay a chicken breast on top.
Change things up!
Turn this into a pepperoni chicken sandwich! Serve the chicken cutlet inside a toasted ciabatta bun.
Serve it with a simple side salad (instead of pasta) to keep things a little lighter.
Or . . . you could serve the chicken with mashed potatoes.
Recipe Summary
Main Ingredients: chicken breasts, marinara sauce, pepperoni, mozzarella
Course: Dinner