Home
>
GMA
>
Recipes Home
>
Pie of Emeril's Eye Contest: Carol's Pear Pie with Almond Streusel and Caramel Drizzle
Pie of Emeril's Eye Contest: Carol's Pear Pie with Almond Streusel and Caramel Drizzle
Recipe Courtesy Carol Adamek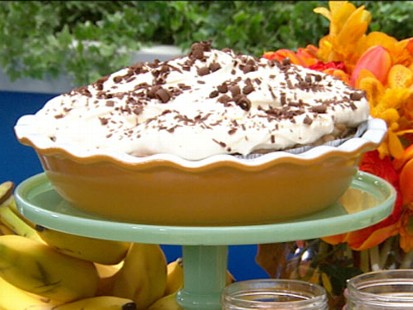 Chef introduces America to final five in his "Pie in Emeril's Eye" contest.
From the kitchen of Carol Adamek
|
Carol bakes pies for fun and finds it therapeutic, especially when the pies turn out well. The Pear Pie with Almond Streusel and Caramel Drizzle is one of her Fall creations.
From Carol Adamek: I like pears and I don't think there's enough pear recipes out there! Pears signify fall to me and I honestly had just come up with that recipe!
Ingredients
For the Crust:
1 1/2 cups flour
½ cup Crisco butter flavored shortening
2 Tbl. unsalted butter pinch of salt
1 egg mixed with 2 Tbl. vinegar and 5 Tbl. cold water
For the Filling:
7 cups Bartlett pears 1/2" slices from pears that have been peeled & cored
½ cup light brown sugar
¼ tsp.white sugar
1 Tbl. fresh lemon juice
1 1/4 tsp. cinnamon
1/2 heaping tsp. cardamom
1/2 tsp.grated nutmeg
Pinch of salt
5 Tbl. of flour
Egg + 1 tsp. water for egg wash
For the Almond Streusel Topping:
¾ cup flour
¾ cup light brown sugar
¾ cup toasted sliced almonds
8 Tbl. butter
Caramel drizzle:
1/2 heated jar of SMUCKER'S Hot Caramel
Cooking Directions
For the crust:
In a food processor pulse together the flour, butter, shortening and salt until mixture resembles coarse crumbs. Stir in 4-5 Tbl. of the egg mixture. Roll out to fit pie plate, and cut out shapes, like leaves, if desired, to place around the edge of the pie plate. Preheat oven to 400 degrees.
For the filling:
Gently stir together the pears, sugars, lemon juice and cinnamon, cardamom, nutmeg, salt and flour. Brush bottom of pie shell with egg wash. Spoon onto prepared pie crust. Top with streusel.
For the topping:
Mix all together well. Bake pie for 45 minutes, or until filling is bubbly. Cool on rack.
Drizzle 1/2 heated jar of SMUCKER'S Hot Caramel over top. Pears shout "It's Fall!"
Other Recipes That You Might Like