Pie of Emeril's Eye Contest Finalist: Helen's Sweet Potato Pecan "Presidential" Pie
Recipe Courtesy Helen Smith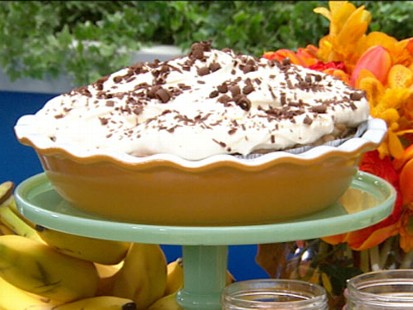 Chef introduces America to final five in his "Pie in Emeril's Eye" contest.
From the kitchen of Helen Smith
From Helen Smith: Last year I had heard that the president said that his favorite two pies were pecan and sweet potato. And I thought, 'I'm going to create a special pie for the president.' So I made my own recipe of pecan pie and sweet potato and I put the sweet potato on the bottom and the pecan on the top and everybody raved! There was one man who had a piece and he said it was a life-changing experience.
Ingredients
For the sweet potato bottom layer:
1 un-baked 9 inch pie shell,
1 cup sugar,
¼ teaspoon of cinnamon,
1½ cups cooked and mashed fresh sweet potatoes,
½ cup evaporated milk,
½ teaspoon salt,
2 eggs,
½ stick solid butter (4 tablespoons),
1 tablespoon of vanilla.
For the pecan top layer:
1 tablespoon butter (melted),
½ cup sugar,
½ cup white corn syrup,
1 extra large egg (beaten),
1 teaspoon vanilla,
1/8 teaspoon of salt,
1 rounded cup of chopped pecans
Cooking Directions
Place all sweet potato ingredients in mixer bowl and blend for about one minute. Spread evenly on bottom of 9 inch pie shell. Wait to put sweet potato pie filling in pie shell until the pecan filling is prepared.
In medium bowl, mix butter, sugar, syrup and egg together (by hand). Add all other ingredients and stir until blended. Stir in pecans and mix well. Carefully spoon pecan filling over top of sweet potato filling. Bake in pre-heated oven at 350 degrees for 45 to 55 minutes until filling is set.
To Dress Pie Top:
After pie has cooled, put ½ cup of plain cooked sweet potato in middle of pie and decorate with whipped cream topping around sweet potato and top with three whole pecans.
This recipe was styled by chef Karen Pickus for Good Morning America.
Recipe courtesy Helen Smith.
Recipe Summary
Main Ingredients: sweet potatoes, evaporated milk, butter, sugar, pecan
Course: Dessert
More Info: Kid Friendly