Chef Marc Forgione's pineapple upside down monkey bread recipe
Try this sweet treat!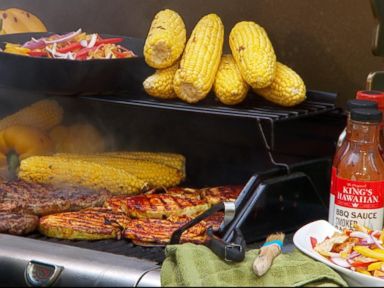 The chef shared some delicious recipes for burgers, brisket sliders and pineapple monkey bread live on "GMA."
From the kitchen of Chef Marc Forgione
Chef Marc Forgione shared his spin on a classic dessert with "Good Morning America." Try this recipe at home to turn this upside down classic on its head.
King's Hawaiian is a sponsor of "Good Morning America."
Ingredients
For the monkey bread:
1 package of King's Hawaiian rolls, quartered and frozen
1 lb butter, melted
1 1/2 cups sugar
4 tablespoons ground cinnamon
6, 3 inch pineapple rings
18-20 brandied cherries
1/2 cup caramel sauce
For the caramel sauce:
1 c water
875 grams sugar
115 grams light corn syrup
2 cups heavy cream, warmed
225 grams crème fraiche
2 teaspoons lemon juice
1 teaspoon vanilla extract
1 teaspoon salt
Cooking Directions
For the caramel sauce:
Make a medium-dark caramel with the water, sugar, and corn syrup. When color is achieved, add heavy cream, whisk to combine. Add crème fraiche, lemon juice, vanilla and salt. Whisk. Cool uncovered in a shallow hotel pan.
For the monkey bread:
Preheat oven to 350 degrees. Spray jumbo muffin pan with non stick pan spray. Place two tablespoons of caramel sauce at the bottom of each mold.
Next, put one pineapple ring at the bottom of each mold and place three brandied cherries in the center of the rings. Mix your cinnamon and sugar together. Gently toss the frozen/quartered rolls in room temp melted butter then roll generously roll in cinnamon and sugar.
Pack in rolls stacked on top of each other. Drizzle one tablespoon of butter on top. Bake for 10-13 minutes until caramel color. Flip monkey bread out onto cooling rack while still warm.
Recipe Summary
Main Ingredients: pineapple, king's hawaiian rolls, caramel sauce
Course: Dessert