Pistachio-Stuffed Dates with Coconut
This great snack satisfies late day hunger without ruining your healthy eating.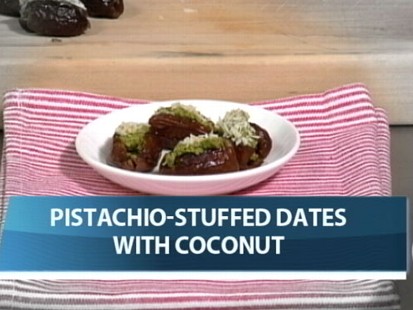 Shira Bocar demonstrates recipes that keep hunger at bay.
From the kitchen of Whole Living Magazine
Makes 16, Serves 4
|
Enjoy these great treats that are both sweet and nutty.
Ingredients
½ cup shelled pistachios
Coarse salt
1 Tbsp toasted unsweetened shredded coconut
16 pitted dates
Cooking Directions
1. In a food processor, puree ½ cup shelled pistachios until a thick paste forms, about 5 minutes. Season with pinch coarse salt.
2. Spoon mixture into 16 pitted dates.
3. Top with 1 Tbsp toasted unsweetened shredded coconut
Per Serving: 365 calories; 8g fat (2g sat fat); 4g protein; 10g fiber
Other Recipes That You Might Like