Marco Borges' Platanos Maduros (Sweet Plantains) a la Mode
This Sweet Treat Is Love at First Bite!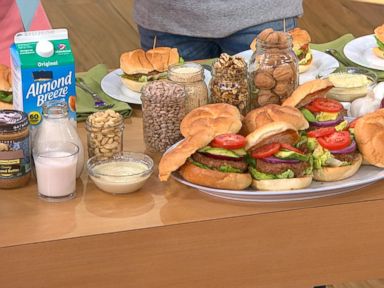 Beyonce's trainer discusses his book highlighting the benefits of a plant-based diet - and he shares some of his famous client's favorite recipes!
From the kitchen of Marco Borges
Marco Borges, who trains the superstar Beyonce, appeared on "GMA" today to promote "22-Day Revolution," his new cookbook highlighting the benefits of a vegan diet. This dish features delicious plantains and coconut ice cream.
Ingredients
1 tablespoon coconut oil
2 very ripe plantains, brownish and very tender to the touch
1 tablespoon organic coconut palm sugar or 1 tablespoon maple syrup
Pinch of ground cinnamon
coconut ice cream (recipe on page 300 of the book) or banana soft serve (recipe on page 299)
Cooking Directions
1. Heat one tablespoon of coconut oil in a large skillet over medium-high heat.
2. Cut off the ends of the plantains and draw a sharp knife along the ridges, lengthwise, making 2 to 3 slits down the peel from one end to the other.
3. Carefully peel off the skin in sections
4. Slice each plantain diagonally into ½ inch thick oval slices. Evenly coat slices with coconut palm sugar or maple syrup and cinnamon.
5. Cook the plantains in the hot skillet for about 4 minutes on each side until soft and caramelized.
6. Serve and top the plantains with a scoop of Coconut Ice Cream or Banana Soft Serve and a sprinkle of coconut palm sugar.
Per serving: 357 calories, 2 grams protein, 54 grams carbohydrates, 17 grams total fat
Recipe courtesy Marco Borges. Copyright © 2016 by Marco Borges. Used with permission of Penguin Random House.
Recipe styled by Karen Pickus, chef/food stylist, "Good Morning America."
Recipe Summary
Main Ingredients: sweet plantains, coconut ice cream
Course: Dessert